01.12.2015 | Debate | Ausgabe 1/2015 Open Access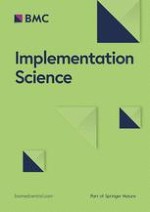 Making sense of implementation theories, models and frameworks
Zeitschrift:
Autor:

Per Nilsen
Wichtige Hinweise
Competing interests
The author declares that he has no competing interests.
Background
This article seeks to further implementation science by providing a narrative review of the theories, models and frameworks applied in this research field. The aim is to describe and analyse how theories, models and frameworks have been applied in implementation science and propose a taxonomy that distinguishes between different approaches to advance clarity and achieve a common terminology. The ambition is to facilitate appropriate selection and application of relevant approaches in implementation studies and foster cross-disciplinary dialogue among implementation researchers. The importance of a clarifying taxonomy has evolved during the many discussions on theoretical approaches used within implementation science that the author has had over the past few years with fellow implementation researchers, as well as reflection on the utility of different approaches in various situations.
Discussion
Summary
Implementation science has progressed towards increased use of theoretical approaches to address various implementation challenges. While this article is not intended as a complete catalogue of all individual approaches available in implementation science, it is obvious that the menu of potentially useable theories, models and frameworks is extensive. Researchers in the field have pragmatically looked into other fields and disciplines to find relevant approaches, thus emphasizing the interdisciplinary and multiprofessional nature of the field.
Despite the overlap between different theories, models and frameworks used in implementation science, knowledge about the three overarching aims and five categories of theoretical approaches is important to identify and select relevant approaches in various situations. Most determinant frameworks provide limited "how-to" support for carrying out implementation endeavours since the determinants may be too generic to provide sufficient detail for guiding users through an implementation process. While the relevance of addressing barriers and enablers to translating research into practice is mentioned in many process models, these models do not identify or systematically structure specific determinants associated with implementation success. Another key difference is that process models recognize a temporal sequence of implementation endeavours, whereas determinant frameworks do not explicitly take a process perspective of implementation since the determinants typically relate to implementation as a whole.
The use of a single theory that focuses only on a particular aspect of implementation will not tell the whole story. Choosing one approach often means placing weight on some aspects (e.g. certain causal factors) at the expense of others, thus offering only partial understanding. Combining the merits of multiple theoretical approaches may offer more complete understanding and explanation, yet such combinations may mask contrasting assumptions regarding key issues. For instance, are people driven primarily by their individual beliefs and motivation or does a pervasive organizational culture impose norms and values that regulate how people behave and make individual characteristics relatively unimportant? Is a particular behaviour primarily influenced by reflective thought processes or is it an automatically enacted habit? Furthermore, different approaches may require different methods, based on different epistemological and ontological assumptions.
Acknowledgements
I am grateful to Bianca Albers, Susanne Bernhardsson (special thanks), Dean L. Fixsen, Karen Grimmer, Ursula Reichenpfader and Kerstin Roback for constructive comments on drafts of this article. Also, thanks are due to Margit Neher, Justin Presseau and Jeanette Wassar Kirk for their input.
This article is published under license to BioMed Central Ltd. This is an Open Access article distributed under the terms of the Creative Commons Attribution License (
http://​creativecommons.​org/​licenses/​by/​4.​0
), which permits unrestricted use, distribution, and reproduction in any medium, provided the original work is properly credited. The Creative Commons Public Domain Dedication waiver (
http://​creativecommons.​org/​publicdomain/​zero/​1.​0/​
) applies to the data made available in this article, unless otherwise stated.
Competing interests
The author declares that he has no competing interests.