01.12.2009 | Debate | Ausgabe 1/2009 Open Access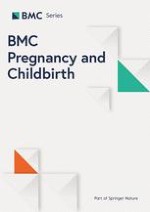 Making stillbirths count, making numbers talk - Issues in data collection for stillbirths
Zeitschrift:
Autoren:

J Frederik Frøen, Sanne J Gordijn, Hany Abdel-Aleem, Per Bergsjø, Ana Betran, Charles W Duke, Vincent Fauveau, Vicki Flenady, Sven Gudmund Hinderaker, G Justus Hofmeyr, Abdul Hakeem Jokhio, Joy Lawn, Pisake Lumbiganon, Mario Merialdi, Robert Pattinson, Anuraj Shankar
Wichtige Hinweise
Electronic supplementary material
The online version of this article (doi:
10.​1186/​1471-2393-9-58
) contains supplementary material, which is available to authorized users.
Competing interests
The authors declare that they have no competing interests.
Authors' contributions
JFF drafted the manuscript in consultation with SJG. SJG reviewed existing classification systems in the table. AB and MM collected and drafted the experiences on data collection in Appendices 1, 2, 3 and 4. All authors edited drafts of the manuscript and read and approved the final manuscript.
Abbreviations
WHO
World Health Organization
ICD
International Classification of Diseases.
Background
Why count stillbirths?
In this report, we assess how different definitions and limits in registration affect data capture, and we discuss the specific challenges of stillbirth registration, with emphasis on implementation. We identify what data need to be captured, we suggest a dataset to cover core needs in registration and analysis of the different categories of stillbirths with causes and quality indicators, and we illustrate the experience in stillbirth registration from different cultural settings. Finally, we point out gaps that need attention in the International Classification of Diseases (ICD) and review the qualities of alternative systems that have been tested in low- and middle-income settings.
Discussion
Summary
Scaled-up of coverage of registration of births is needed. Vital registrations and health information systems and other large Demographic and Health Surveys should be adjusted to accommodate registration of stillbirths. Tools for verbal autopsies must be revised to improve capture of causes and events related to stillbirths. The WHO definitions of stillbirth for reporting should be implemented globally, and registrations should capture stillbirths of lower weight and gestation than the intended reporting limits. Pregnancies should be registered before the perinatal period to help overcome the barriers in stillbirth registration and enable prevention efforts in antenatal care. Causes of death in stillbirths must be monitored, and better detection of the most prevalent causes--in particular, infections and placental pathologies--is needed. The ICD system's O and P codes need to be adjusted and supplemented to capture the causes identified. A universal approach to stillbirth classification is optimal and warrants focused attention.
The
BMC Pregnancy and Childbirth
issue on stillbirth prevention illustrates how specific causes of stillbirth can be prevented [
3
–
5
,
5
,
6
,
41
,
91
,
92
]. None of this will happen without data. Development and evaluation of prevention efforts require registration of all stillbirths, the characteristics of the pregnancies affected, the timing of death, the underlying causes, and the quality and availability of care for each individual. Stillbirths need to count. With careful collection and analysis of these data, the numbers will speak for themselves.
Appendices
Appendix 1 - Success criteria for collection and reporting of stillbirth data
Consistent use of definitions between institutions

Systematic approach to capture pregnancies and out-of-hospital stillbirths

Capacity and training in examinations and testing procedures to identify cause of death

Easily accessible electronic files for registration

Training in stillbirth registration and classification

Dedicated and motivated staff for registrations

Feedback and other incentives to motivate staff

Local adaptations of a sustainable system for registering and reporting

Quality indicators developed for local needs

Regional or national data collection and analysis
Appendix 2 - Egypt: Assiut University Hospital
The hospital center in Assiut is a tertiary university hospital that receives women from low to middle socioeconomic levels. In 2007, the hospital attended 13,398 deliveries and 6550 antenatal care clients. There is 50%-75% coverage of the care system in the area.
Pregnancies are captured from 22 weeks gestation. The current system can also register stillbirths from 28 weeks gestation (or 1000 g or 35 cm) including intrapartum deaths. Using this definition, the hospital stillbirth rate is 70/1000.
No specific person is responsible for reporting stillbirths in particular. However, systematic reporting on stillbirths is included in the general statistics of the delivery unit, which provides the stillbirth rate. The outcome of pregnancy is reported in the medical file by the attendant obstetrician, but these files are not easily accessed for registrations. Therefore, the hospital is moving towards introducing the recording of labor and delivery data into a computerized database. This move would facilitate data capture and strengthen the quality of data in general and in particular, the quality of reported pregnancies and stillbirths. The main challenge of such a system is sustainability within available resources. Data entry is performed by residents who need to be motivated and to see the usefulness of the work in order to achieve quality in the reporting.
The proposed system of registration could be implemented at the Assiut Hospital. An anticipated challenge would be the necessity to train data collectors in ICD-10. Potential feasible additions to the proposed dataset for monitoring includes collection and laboratory analysis of cord blood to identify blood group incompatibilities, genetic analysis, and photographs to document the findings of macroscopic exams.
Appendix 3 - Thailand: Srinagarind Hospital
Srinagarind is a 1000-bed, urban teaching hospital located in Khon Kaen in the Khon Kaen province of Thailand. The hospital provides comprehensive obstetric care. Each year, 2500-3000 women give birth in Srinagarind, and it provides antenatal care to 2500 women. The antenatal care clinic opens weekdays from 9:00 to noon, and the high-risk pregnancy clinic opens from 13:00 to 16:00.
The hospital's strategy is to capture pregnancies from <22 weeks and stillbirths based on the 22-week definition (500 g or 25 cm). With this definition, the stillbirth rate is 7/1000. The stillbirth capturing system identifies intrapartum deaths, which represent 3/1000 births.
Registered nurses register all births (live and stillbirth), and one senior registered nurse is responsible for reporting. There is no lower limit on registration and reporting of live births. Residents are responsible for reporting the monthly statistics in the departmental meeting. Information on all births, including complications, is entered into computer files that can be readily assessed.
The proposed system of registration could be implemented at Srinagarind Hospital, Khon Kaen University. All items are applicable in this setting would be integrated with neonatal death registrations. Additions to the dataset might include the ability to distinguish between vacuum and forceps in assisted vaginal deliveries and separate categories for maternal anemia and pre-eclampsia, preterm labor, and fetal distress.
Appendix 4 - South Africa: East London Hospital Complex
Located in East London, this urban hospital complex is a second-line birthing institution equipped with 1676 beds, of which 60 are gynecology beds and 180 obstetric beds. It receives mainly women from low socioeconomic groups who cannot afford private care. The number of births per year is 13,000-14,000, and the hospital provides antenatal care for the same population. It has high coverage of both antenatal (>80%) and intrapartum (>90%) care. The hospital uses the stillbirth definition ≥ 500 g (weight only, no gestational age or length) for registration, and the stillbirth rate ≥ 1000 g is 23/1000. The intrapartum stillbirth rate is approximately 7/1000.
A significant strength of the hospital's registration program is its participation in the well-structured national Perinatal Problem Identification Program (PPIP,
http://​www.​ppip.​co.​za
). Doctors or midwives fill in the individual perinatal death report, while a dedicated statistics nurse registers births and checks that all births recorded in the labor ward are accounted for. Data are submitted monthly to a national PPIP database. PPIP differs from the proposed classification approach in that it does not collect data specifically on intrapartum vs. antepartum deaths, but on four categories: "stillborn, alive on admission," "fresh stillborn, dead on admission," "stillborn, admission status unknown," and "macerated stillborn." The sum of the three first categories is reported as an approximation of intrapartum death rates.
A weakness of the hospital's current system is the inability to capture deaths outside the hospital in the communities served and, thus, a lack of information on perinatal deaths occurring at home. A second weakness is the use of a manual counting system and not an electronic maternity database. The latter would be a feasible and major opportunity to improve data collection.
In this setting, there are few obstacles to capturing data on stillbirths systematically, and extending registrations to a maternity database remains a question of prioritizing resources in a setting where skilled staff shortage is the main limitation of the health care system. A maternity database would not directly lead to improved capture of stillbirths in home deliveries. Some could be captured with access to death registration data, but some are not reported at all by the families.
A specific disincentive to the registration of stillbirths in South Africa is that registered stillborn babies require a formal burial, which places a large financial burden on the family. Even in the case of in-hospital stillbirths of borderline weight, hospital staff may assist the family to avoid the cost of burial by recording the death as a miscarriage.
Acknowledgements
The authors would like to acknowledge the support of the International Stillbirth Alliance and the Departments for Making Pregnancy Safer and Reproductive Health and Research in facilitating the collaboration of the research team.
The findings and conclusions in this report are those of the authors and do not necessarily represent the official position of the institutions to which they are affiliated, including the Norwegian Institute of Public Health, the Centers for Disease Control and Prevention, and the World Health Organization.
Competing interests
The authors declare that they have no competing interests.
Authors' contributions
JFF drafted the manuscript in consultation with SJG. SJG reviewed existing classification systems in the table. AB and MM collected and drafted the experiences on data collection in Appendices 1, 2, 3 and 4. All authors edited drafts of the manuscript and read and approved the final manuscript.