01.12.2017 | Research | Ausgabe 1/2017 Open Access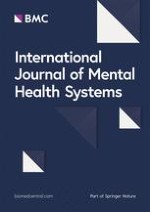 "Making the Mentally Ill Count", lessons from a Health and Demographic Surveillance System for people with mental and neurological disorders in the Kintampo districts of Ghana
Zeitschrift:
Autoren:

Kenneth A. Ae-Ngibise, Edward Adiibokah, Obed Ernest A. Nettey, Solomon Nyame, Victor Christian Korley Doku, Kwaku Poku Asante, Seth Owusu-Agyei
Abstract
Background
Persons with mental and neurological disorders (PMNDs) are among the most marginalised groups in developing countries, as they are socially excluded and overlooked in most developmental efforts. Due to high levels of stigma and other operational difficulties, PMNDs are often marginalised in routine enumeration exercises. Health and Demographic Surveillance System is an important public health research platform especially in countries that lacks reliable data systems, as it registers and monitor basic demographic and health events such as births, deaths and migration in a geographically defined population. This information is essential for policy development and resource distribution and service delivery. We aim to document the reasons for not counting PMNDs in our communities and demonstrate the usefulness of the Kintampo Health and Demographic Surveillance Systems (KHDSS) platform in counting PMNDs over time. We also documented strategies in providing vital information that helps in establishing the rights of PMNDs.
Methods
As a longitudinal study, psychiatric case register was established. Both quantitative and qualitative data collection techniques were used to solicit responses from stakeholders regarding the non-consideration of PMNDs as part of household membership in the study area. PMNDs were identified using the KHDSS and followed every 6 months. The "
targeted
" (actively searching for PMNDs) and "
service provision"
(providing medical treatment for PMNDs) approaches were adopted to enhance the identification of PMNDs.
Results
Stigma was the main reason cited for the non-counting of PMNDs in the area. Following a "
targeted
" and "
service provision"
approach, the number of PMNDs enrolled into the psychiatric case register went up to 68% in 2010; as against the previous levels of 49 and 54% in 2005 and 2008 respectively. The study highlights the intrinsic value of such an approach for social inclusion of PMNDs.
Conclusions
Stigma against PMNDs was report in this study. We provided evidence that the KHDSS platform is useful for identification of PMNDs for service provision. The paper highlights evidence for policy formulation and implementation.