01.12.2015 | Research | Ausgabe 1/2015 Open Access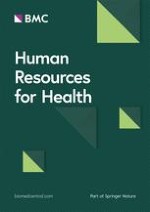 Making the transition to workload-based staffing: using the Workload Indicators of Staffing Need method in Uganda
Zeitschrift:
Autoren:

Grace Namaganda, Vincent Oketcho, Everd Maniple, Claire Viadro
Wichtige Hinweise
Competing interests
The authors declare that they have no competing interests.
Authors' contributions
GN designed the study, trained the data collection teams, spearheaded the data collection and analysis and wrote the initial draft of the study report. VO provided overall technical guidance in the conceptualization and design of the study, as well as in data analysis and report writing. EM conducted data analysis, carried out an extensive literature review to contextualize the study findings and refined the final study report upon which the manuscript is based. CV played a lead role in conceptualizing and drafting the manuscript. All authors read and approved the final manuscript.
Authors' information
GN is associate HRH senior technical advisor with Abt Associates in Swaziland and previously served as deputy chief of party and senior human resource management advisor for IntraHealth International. GN holds a Master of Science degree in health services management. VO, a physician with public health training, is Uganda country director for IntraHealth International and previously served as senior HRH advisor with Uganda's Ministry of Health. EM is a faculty member at the Faculty of Health Sciences, Uganda Martyrs University, and holds a PhD in health systems research and dual medical and public health degrees. CV works at IntraHealth International, has 25 years of public health research and writing experience and holds master's and doctoral degrees in public health.
Abstract
Background
Uganda's health workforce is characterized by shortages and inequitable distribution of qualified health workers. To ascertain staffing levels, Uganda uses fixed government-approved norms determined by facility type. This approach cannot distinguish between facilities of the same type that have different staffing needs. The Workload Indicators of Staffing Need (WISN) method uses workload to determine number and type of staff required in a given facility. The national WISN assessment sought to demonstrate the limitations of the existing norms and generate evidence to influence health unit staffing and staff deployment for efficient utilization of available scarce human resources.
Methods
A national WISN assessment (September 2012) used purposive sampling to select 136 public health facilities in 33/112 districts. The study examined staffing requirements for five cadres (nursing assistants, nurses, midwives, clinical officers, doctors) at health centres II (
n
= 59), III (
n
= 53) and IV (
n
= 13) and hospitals (
n
= 11). Using health management information system workload data (1 July 2010–30 June 2011), the study compared current and required staff, assessed workload pressure and evaluated the adequacy of the existing staffing norms.
Results
By the WISN method, all three types of health centres had fewer nurses (42–70%) and midwives (53–67%) than required and consequently exhibited high workload pressure (30–58%) for those cadres. Health centres IV and hospitals lacked doctors (39–42%) but were adequately staffed with clinical officers. All facilities displayed overstaffing of nursing assistants. For all cadres at health centres III and IV other than nursing assistants, the fixed norms or existing staffing or both fell short of the WISN staffing requirements, with, for example, only half as many nurses and midwives as required.
Conclusions
The WISN results demonstrate the inadequacies of existing staffing norms, particularly for health centres III and IV. The results provide an evidence base to reshape policy, adopt workload-based norms, review scopes of practice and target human resource investments. In the near term, the government could redistribute existing health workers to improve staffing equity in line with the WISN results. Longer term revision of staffing norms and investments to effectively reflect actual workloads and ensure provision of quality services at all levels is needed.