01.12.2017 | Research | Ausgabe 1/2017 Open Access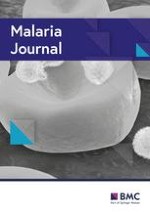 Malaria case management by community health workers in the Central African Republic from 2009–2014: overcoming challenges of access and instability due to conflict
Zeitschrift:
Autoren:

Laura Ruckstuhl, Christian Lengeler, Jean Méthode Moyen, Helle Garro, Richard Allan
Abstract
Background
In the Central African Republic (CAR), decades of armed conflict have crippled the public health system. This has left the population without timely access to life-saving services and therefore vulnerable to the numerous consequences of infectious diseases, including malaria. As a response, in 2008 an international non-governmental organization started a network of community health workers (CHWs) in the highly malaria-endemic region of northwest CAR. The area has experienced years of violent clashes between rebel groups and seen hundreds of thousands of people displaced.
Methods
Data from routine patient registers from 80 CHWs working in Paoua and Markounda sub-prefectures were entered and retrospectively reviewed. The time period covered December 2009–April 2014 and hence different stages of conflict and unrest. Several indicators were measured over time, including malaria rapid diagnostic test (RDT) positivity rates, CHW reporting rates, and malnutrition indicators.
Results
Among nearly 200,000 people who consulted a CHW during this period, 81% were found to be positive for malaria parasites by RDT. In total, 98.9% of these positive cases were appropriately treated with artemisinin-based combination therapy (ACT). Only 1.2% of RDT negative cases were incorrectly treated with an ACT. Monthly data from each CHW were regularly reported, with more than 96% of CHWs reporting each month in the first 3 years of the project. However, since the coup d'état in March 2013, the number of CHWs reporting each month decreased as the programme battled the additional constraints of civil war.
Conclusions
Although the political crisis affected the CHWs, the programme showed that it could reach those most vulnerable and continue some level of care at all times. In addition, this programme revealed that surveillance could be maintained in conflict zones. This paper fills a significant gap in the knowledge of malaria control in CAR and this is especially important for agencies which must often decide in a short space of time how to respond effectively to complex emergencies.