01.12.2018 | Research | Ausgabe 1/2018 Open Access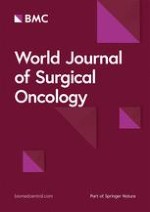 Male breast cancer: diagnosis stages, treatment and survival in a country with limited resources (Burkina Faso)
Zeitschrift:
Autoren:

Nayi Zongo, Smaïla Ouédraogo, Nina Korsaga-Somé, Ollo Roland Somé, Naïma GO, Edgar Ouangré, Maurice Zida, Gilbert Bonkoungou, Aimé Sosthène Ouédraogo, Aboubacar Hirrum Bambara, Bambara Augustin Tozoula, Si Simon Traoré, Ahmadou Dem, Pascal Niamba, Adama Traoré, Adama Sanou, Danielé Grazziotin Soares, Jean-Pierre Lotz
Abstract
Background
Male breast cancer is a rare and less known disease. Therapeutic modalities affect survival. In Burkina Faso, male breast cancers are diagnosed in everyday practice, but the prognosis at short-, middle-, and long-term remains unknown. The objective of this study is to study the diagnosis stages, therapeutic modalities, and 5-year survival in male breast cancer at the General Surgery Unit of Yalgado Ouedraogo University Hospital from 1990 to 2009.
Methods
A cohort longitudinal study concerning cases of breast cancer diagnosed in man. Survival was assessed using the Kaplan–Meier method and survival curves were compared through the LogRank test.
Results
Fifty-one cases of male breast cancer were followed-up, i.e., 2.6% of all breast cancers. Stages III and IV represented 88% of cases. Eleven patients (21.6%) were at metastatic stage. Patients were operated in 60.8% of cases. The surgery included axillary dissection in 25 (80.6%) out of 31 cases. Lumpectomy was performed on 6.5% of patients (2 cases). Fifteen (29.4%) and 11 (21.6%) patients underwent chemotherapy and hormonal therapy, respectively. The FAC protocol was mostly used. Radiation therapy was possible in two cases. The median deadline for follow-up was 14.8 months. A local recurrence was noticed in 3.2% of cases. The overall 5-year survival rate was 49.9%. The median survival was over 5 years for stages I and II. It was 54 down to 36 months for stages III and IV.
Conclusion
Diagnosis is late. The lack of immunohistochemistry makes it difficult to define the proportion of their hormonal dependence. Surgery is the basic treatment. Five-year survival is slow and the median survival depends on the diagnosis stage. It can be improved through awareness-raising campaigns and the conduct of individual screening.