01.12.2017 | Case Report | Ausgabe 1/2017 Open Access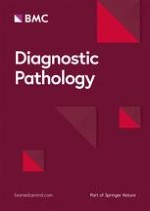 Malignant gastrointestinal neuroectodermal tumor: a case report and review of the literature
Zeitschrift:
Autoren:

Mohammed J. Alyousef, Jumana A. Alratroot, Tarek ElSharkawy, Mohamed A. Shawarby, Mohammad A. Al hamad, Tarek M. Hashem, Ahmed Alsayyah
Abstract
Background
Malignant gastrointestinal neuroectodermal tumor (GNET) is an extremely rare entity that was first described by Zambrano et al. in 2003 as "Clear cell sarcoma-like tumor of the gastrointestinal tract". It shares some of the histological features of clear cell sarcoma (CCS) but lacks the immunohistochemical reactivity for melanocytic markers. We report a case of GNET that was initially misdiagnosed as gastrointestinal stromal tumor (GIST). Recognizing this entity is important to avoid misdiagnosis.
Case presentation
A case of an 18-year-old male presented with a small intestinal tumor. Histologically it was characterized by polygonal cells arranged in pseudoalveolar pattern and situated in the muscularis propria. Scattered osteoclast-like multinucleated giant cells were also noted. The neoplastic cells were positive for S-100 protein and negative for HMB-45, Melan A, smooth muscle actin, desmin and CD117. EWSR1 gene rearrangement was detected by fluorescence in situ hybridization (FISH) analysis. The patient returned with recurrence after 36 months' management by surgical resection and died one year later.
Conclusions
GNET can be mistaken histologically for other non-epithelial gastrointestinal tumors. Awareness of its existence and diagnostic criteria by the pathologist is necessary to avoid misdiagnosis, particularly as GIST, CCS or malignant peripheral nerve sheath tumor (MPNST).