12.07.2018 | Original Communication | Ausgabe 10/2018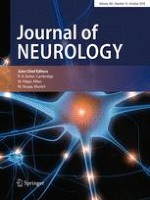 Malignant tumors in autoimmune encephalitis with anti-NMDA receptor antibodies
Zeitschrift:
Autoren:

Chloé Bost, Eve Chanson, Géraldine Picard, David Meyronet, Marie-Eve Mayeur, François Ducray, Veronique Rogemond, Dimitri Psimaras, Jean-Christophe Antoine, Jean-Yves Delattre, Virginie Desestret, Jerome Honnorat
Wichtige Hinweise
Chloé Bost and Eve Chanson contributed equally to this manuscript.
Abstract
Objective
The aim of this study was to describe specificities of patients with NMDA receptor antibody (NMDAR-Ab) encephalitis associated with a malignant tumor.
Methods
Retrospective observational study of 252 patients with NMDAR-Ab encephalitis of the French Paraneoplastic Neurological Syndrome Reference Center. Patients were classified in three groups: (1) non-malignant ovarian teratomas, (2) malignant ovarian teratomas (immature), and (3) other malignant tumors.
Results
Sixty patients (23.8%) had an associated tumor and 15 (6%) were malignant. No particular neurological symptom was observed in these patients. Ovarian teratomas were the most frequent (51 cases) with 6 of them immature (11.8% of teratomas). Nine patients (3.6%) developed other malignant tumors (3 small cell lung carcinomas, 1 uterine adenocarcinoma, 1 prostate adenocarcinoma, 1 Hodgkin lymphoma, 1 pineal dysgerminoma, 1 neuroblastoma and 1 pancreatic neuroendocrine tumor). Among patients with a cancer other than teratoma, 6/9 were elderly patients (median age 65 years, representing 30% of elderly patients with such encephalitis) compared to a median age of 26 years in adult patients included herein. The clinical course was similar in the three groups, other than a higher death rate among patients with malignant tumors (86 versus 2%;
p
 < 0.001) mainly due to tumor progression (5/7 deaths).
Conclusion
Immature ovarian teratomas represent 11.8% of all teratomas in patients with NDMAR-Ab encephalitis. The other malignant tumors are mainly observed in elderly patients. The presence of a malignant tumor does not impact the neurological presentation but is directly associated with a higher risk of death.