01.12.2018 | Mammakarzinom | Case report | Ausgabe 1/2018 Open Access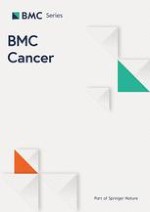 Successfully treatment by eribulin in visceral crisis: a case of lymphangitic carcinomatosis from metastatic breast cancer
Zeitschrift:
Autoren:

Jean-David Fumet, Mark Wickre, Jean-Philippe Jacquot, Marie-Helene Bizollon, Adrien Melis, André Vanoli, Erika Viel
Abstract
Background
Metastatic breast cancer (MBC) rest an incurably disease associated with bad prognosis and a median overall survival of 23–31 months. There are several treatment options including chemotherapy and sometimes endocrine therapy. Currently, there is no standard treatment for patients with MBC who have already benefited from anthracyclines and taxanes therapy. Many drugs like capecitabine, eribulin, gemcitabine, vinorelbin and liposomal doxorubicin are conventionally used as monotherapy. One important complication from MBC is life threating visceral crisis that needs a fast-effective treatment.
Case presentation
We report here a case of an evolution of metastatic breast cancer with lymphangitic carcinomatosis after taxane based chemotherapy and endocrine therapy. This 37-year-old woman was referred to our hospital with complaints of dyspnea and dry cough. There was clinical concern for visceral crisis and a chemotherapy with eribulin was initiated. Pulmonary lymphangitic carcinomatosis disappeared and the patient achieved a good partial response.
Conclusion
We reported a case of rapid, positive treatment response using eribulin on metastatic breast cancer with visceral crisis and we could quoted others. Therefore, eribulin may be an appropriate chemotherapeutic option in instances requiring rapid symptom control.