23.05.2020 | Recommendations | Ausgabe 9/2020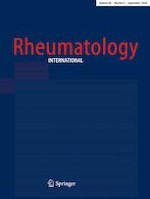 Management of gout by Moroccan rheumatologists: a Moroccan Society for Rheumatology National Survey
Zeitschrift:
Autoren:

Jihad Moulay Berkchi, Hanan Rkain, Laila Benbrahim, Souad Aktaou, Noufissa Lazrak, Souad Faiz, Samir Ahid, Redouane ABOUQAL, Saloua Labzizi, Naima Ouzeddoun, Latifa Oukerraj, Ihsane Hmamouchi, Najia Hajjaj-Hassouni, Fadoua Allali
Wichtige Hinweise
Publisher's Note
Springer Nature remains neutral with regard to jurisdictional claims in published maps and institutional affiliations.
Abstract
To assess the modalities and current practices in gout management reported by Moroccan rheumatologists. We performed a cross-sectional online survey using a questionnaire e-mailed to 360 rheumatologists included 30 multiple-choice questions. 105 rheumatologists responded to the survey with 29% of response rate. The number of gout patients seen per month was five (3–9); they were referred in 58.7% by a general practitioner. The clinical presentation of gout patients was dominated by gout crisis in 71%, and the association gout crisis and gouty arthropathy accounted for 19% of severe forms. 40% of rheumatologists apply the 2015ACR/EULAR classification criteria. Obesity accounted for 85.7% of the associated comorbidities. The most commonly prescribed Urate-lowering therapy (ULT) was allopurinol in 81.3% (± 12). 48% of rheumatologists reported starting allopurinol at 200 mg daily and associated it with colchicine during the first 6 months by 33.3%. The determination of uric acid levels was monitoring in 76.2% every 3 months. Administration of ULT to asymptomatic hyperuricemia was found in 69.5% when patients had renal complications, while only 14.3% recommended dietary and lifestyle measures. The median duration for therapeutic education was 15 min (10, 20). In 96.2%, the education of the patient was done orally. 93.3% of rheumatologists inform their patients on how to manage a gout attack, and 96.2% on the measures of hygiene and diet has adopted. Our survey gives an insight into the elements that should be improved in the management of gout by the Moroccan rheumatologists. It highlights the need to standardize the management of gout, hence the importance of developing Moroccan recommendations on gout.