25.05.2019 | Advances in Gynaecologic Oncology Screening Technologies (S Shanbhag, Section Editor) | Ausgabe 3/2019 Open Access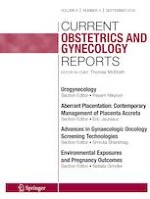 Management of Induced Menopause in Gynaecological Cancers and Their Challenges
Zeitschrift:
Autoren:

Prashant Purohit, Jennifer Sassarini, Mary Ann Lumsden
Wichtige Hinweise
This article is part of the Topical Collection on
Advances in Gynaecologic Oncology Screening Technologies
Publisher's Note
Springer Nature remains neutral with regard to jurisdictional claims in published maps and institutional affiliations.
Abstract
Purpose of Review
The consequence of treatment for gynaecological cancers can cause sudden onset of intense menopausal symptoms, such as vasomotor symptoms, sexual dysfunction and emotional instability. Hormone replacement therapy (HRT) is often effective and can overcome these unpleasant and severe symptoms. However, data regarding its safety remains controversial. The big question therefore is whether HRT in gynaecological cancer survivors is possible. This is due to the fear of disease relapse. So, the purpose of this study was to review the evidence regarding cancer recurrence or death following use of HRT in survivors of gynaecological cancers.
Recent Findings
For endometroid endometrial cancer, most of the retrospective studies concluded that there was no increase in recurrence rate of endometrial cancers in HRT versus non-HRT users. HRT should be particularly avoided in epithelial ovarian tumours particularly serous cancers and serous borderline tumours due to expression of oestrogen receptors. Given the lack of evidence on the impact of HRT on recurrence and disease-free survival in survivors of cervical cancers, it would seem perfectly reasonable to prescribe HRT, particularly if they are premenopausal. Many clinical guidelines would consider the use of HRT to be contraindicated in breast cancer survivors based on limited RCT evidence.
Summary
Current scientific data, comprising mainly of retrospective studies, suggest that recurrence rates and survival are comparable between HRT users and non-users. Women should know the paucity of safety data regarding the use of HRT. Wherever possible, non-hormonal alternatives to HRT should be considered in all women. If non-hormonal alternatives fail to achieve adequate control of symptoms, then it is possible to consider the HRT after careful counselling of the patient as well as involvement of the oncology team in the decision-making process. However, more robust randomised controlled trials are needed to get convincing data regarding the safety of HRT in gynaecological cancer survivors.