01.06.2014 | Bone and Soft Tissue Sarcomas | Ausgabe 6/2014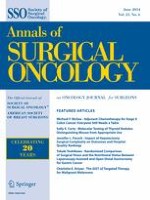 Management of Local Recurrence of Pediatric Osteosarcoma Following Limb-Sparing Surgery
Zeitschrift:
Autoren:

MD Amos H. P. Loh, MD Fariba Navid, MA Chong Wang, MD Armita Bahrami, PhD Jianrong Wu, MD Michael D. Neel, MD Bhaskar N. Rao
Abstract
Background
The optimal management of locally recurrent pediatric osteosarcoma is not established, especially after prior limb-sparing surgery. We describe our experience in the management of these patients and identify prognostic indicators of post-recurrence survival.
Methods
We conducted a retrospective, single-institution review of patients with locally recurrent osteosarcoma after limb-salvage surgery who were treated between October 1989 and January 2012. The management of each recurrence was evaluated, and patient, disease, and treatment factors were correlated with post-recurrence survival (PRS).
Results
Of 200 patients who underwent limb-sparing procedures, 18 (9 %) had biopsy-proven local recurrence. Recurrences occurred in soft tissue in 15 patients (83.3 %). Six patients (33.3 %) were amenable to repeat limb-sparing surgery. Median time to local recurrence was 1.4 (range 0.6–10.4) years. Median PRS was 11.8 months (range 3.7 months–12.1 years). Post-recurrence survival was significantly associated with the length of resection margins and was longer when recurrent tumors were resected with margins of ≥1 cm, compared with subcentimeter or positive margins (
P
= 0.03). Median PRS was longer in patients who underwent amputations (2.44 years) than those who underwent repeat limb-sparing surgery (0.86 years), and in patients who had distant metastases resected (2.7 years) than those who did not (0.85 years); however, differences were not significant.
Conclusions
Local management of recurrent osteosarcoma in a previously reconstructed limb is highly individualized. A sufficiently wide resection is important for local control of recurrences, independent of the type of surgery. Maintaining control of distant metastases may also contribute to improved survival.