01.12.2015 | Original Article | Ausgabe 4/2015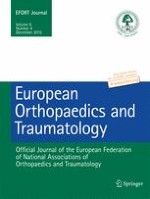 Management of non-united extra-articular proximal tibial fractures by combined intramedullary nail and plate
Zeitschrift:
Autoren:

Khaled M. Emara, Ramy Ahmed Diab
Abstract
Background
Nonunion of the proximal tibia is a relatively rare clinical entity. The clinical series that exist in the literature concerning extra-articular proximal tibia fractures mostly document nonunion rates less than 3 %. Management with intramedullary devices alone often led to malalignment and nonunions. When laterally based plates are used alone, the potential for varus deformity and collapse especially with the use of non-locked implants or medial comminution exists. The purpose of this study was to assess the results of combined intramedullary nailing and minimal proximal tibial plating for non-united extra-articular proximal tibial fractures.
Material and methods
Seventeen non-united fractures of the extra-articular proximal tibial metaphysis were operated using combined intramedullary and locked plate fixation between 2006 and 2010. Radiological evaluation was done every 3 weeks until solid fracture union and at final follow-up visits. Clinical outcomes were evaluated using Knee Society clinical rating scores, where excellent means 85–100; good, 70–84; fair, 60–69; and poor, <60.
Results
Functionally, the mean Knee Society score at final follow-up was 87.41 (range 80 to 94). Scores were excellent in 12 (70.6 %) patients and good in 5 (29.4 %). Radiologically, all fractures united at a mean of 21 weeks postoperatively. One patient had a 4° valgus malreduction compared to the normal side. Four patients underwent an autogenous bone graft.
Conclusion
Combined plating over nailing of non-united fractures of the proximal tibial metaphysis allows good stability, early weight bearing, and rapid union. Our good clinical results encourage using this technique in these fractures. It is technically simple and produces effective outcomes.