07.01.2020 | Original Article | Ausgabe 2/2020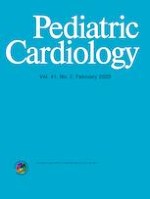 Management of Persistent Pulmonary Hypertension After Correction of Congenital Heart Defect with Autologous Marrow-Derived Mononuclear Stem Cell Injection into the Pulmonary Artery: A Pilot Study
Zeitschrift:
Autoren:

Hamid Amoozgar, Pegah Banafi, Hamid Mohammadi, Mohammad Reza Edraki, Nima Mehdizadegan, Gholamhossein Ajami, Mohammad Borzouee, Kambiz Keshaarz, Poria Moradi, Elham Dehghani
Wichtige Hinweise
Publisher's Note
Springer Nature remains neutral with regard to jurisdictional claims in published maps and institutional affiliations.
Abstract
Pulmonary arterial hypertension (PAH) related to left-to-right shunt can progress to Eisenmenger syndrome, a serious and fatal disease that is not yet curable. This pilot study considered stem cell injection as a new treatment modality in persistent pulmonary hypertension after the correction of a congenital heart defect. Three patients with persistent pulmonary hypertension after ventricular septal defect repair were included in this pilot study for a clinical trial. Mononuclear stem cells derived from patients' bone marrow specimens were injected into the right and left pulmonary arteries via cardiac catheterization. The patients were followed over a 6-month period, with six-minute walk test, echocardiography and repeated angiography performed in the sixth month after treatment. The results of the study showed improvement of 40 m, 280 m and 100 m in 6-minute walk distance in patients 1 to 3, respectively. The peak PR gradient decreased 2, 5 and 9 mmHg by echocardiography, and mean PA pressure decreased 21, 22 and 9 mmHg by catheterization in patients 1 to 3, respectively. Pulmonary artery resistance decreased 4, 4.5 and 1.3 Wood units after 6 months of stem cell therapy in the three patients. No short-term complications were detected in this pilot trial, and all patients tolerated the procedure without any complications. Intrapulmonary artery injection of stem cells may have a role in the treatment of persistent PAH secondary to congenital heart disease. This procedure is feasible, with no significant complications, and this study can be considered as a platform for larger studies.