01.03.2016 | Original Article | Ausgabe 3/2016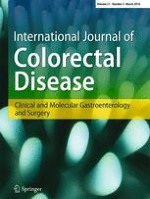 Management of postoperative bladder emptying after proctectomy in men for rectal cancer. A retrospective study of 190 consecutive patients
Zeitschrift:
Autoren:

Cécile Bouchet-Doumenq, Jérémie H. Lefevre, Malika Bennis, Najim Chafai, Emmanuel Tiret, Yann Parc
Abstract
Purpose
Evaluation of urinary drainage after rectal resection and identification of criteria associated with postoperative urinary dysfunction (UD). UD remains a clinical problem for up to two thirds of patients after rectal resection. Currently, there are no guidelines concerning duration or type of drainage.
Methods
One hundred ninety consecutive rectal resections (abdomino-perineal resection (APR = 47), mechanical coloanal anastomosis (MechCAA = 48), manual coloanal anastomosis (ManCAA = 47), colorectal anastomosis (CRA = 48)) in male patients were included. In patients with a transurethral catheterization (TUC), the drainage was removed at day 5. Patients with a suprapubic catheterization (SPC) underwent drainage removal according to the results of a clamping test at day 5. UD was defined as drainage removal after day 6 and/or acute urinary retention (AUR).
Results
Drainage types were SPC (
n
 = 136, 72 %) and TUC (
n
 = 54, 28 %). SPC was used more frequently after total mesorectal excision (TME) (APR, ManCAA, MechCAA) (83–92 %). Complications rates of SPC and TUC were 20 and 9 %. The clamping test was positive for 61 patients (48 %), and SPC was removed before/on POD6 without any episode of AUR. After TUC removal, two patients (4 %) had AUR. Seventy-two (38 %) patients had UD: 11 (6 %) were discharged with an indwelling catheter, and in 61 (32 %), the catheter was removed after day6. Three independent factors were associated with UD: diabetes (OR = 2.9 (1.2–7.7)), urological history (OR = 2.9 (1.2–7.6)), and TME (OR = 5.2 (2.3–13.5)).
Conclusion
The UD rate after surgery for rectal cancer was 38 %. The clamping test is accurate to prevent AUR after SPC removal. The three risk factors may serve to select good candidates for early catheter removal.