12.10.2020 | Original article | Sonderheft 1/2021 Open Access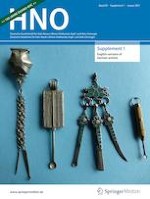 Management of transmodiolar and transmacular cochleovestibular schwannomas with and without cochlear implantation
Zeitschrift:
Autoren:

Prof. Dr. med. S. K. Plontke, P. Caye-Thomasen, C. Strauss, S. Kösling, G. Götze, U. Siebolts, D. Vordermark, L. Wagner, L. Fröhlich, T. Rahne
Wichtige Hinweise
Video online
The online version of this article (
https://​doi.​org/​10.​1007/​s00106-020-00919-9
) includes a video (2D and 3D versions) of the described surgical technique. Article and supplementary material are available at
www.​springermedizin.​de
. Please enter the title of the article in the search field, the supplementary material can be found under "Ergänzende Inhalte".
×
The manuscript is part of the special issue "Prize winners of the German Society of Otorhinolaryngology, Head and Neck Surgery." It contains data presented at the 90th Annual Meeting of the German Society of Otorhinolaryngology, Head and Neck Surgery 2019 [
34
], where it was awarded the "1st poster prize in the category clinical research."
Abstract
Introduction
Hearing rehabilitation with cochlear implants has attracted increasing interest also for patients with cochleovestibular schwannoma. The authors report their experience with the surgical management of tumors with rare transmodiolar or transmacular extension and outcomes after cochlear implantation (CI).
Methods
This retrospective case series included nine patients with either primary intralabyrinthine tumors or secondary invasion of the inner ear from the internal auditory canal. The primary endpoint with CI, performed in six patients, was word recognition score at 65 dB SPL (sound pressure level). Secondary endpoints were intra- and postoperative electrophysiological parameters, impedance measures, the presence of a wave V in the electrically evoked (via the CI) auditory brainstem responses, the specifics of postoperative CI programming, and adverse events.
Results
Hearing rehabilitation with CI in cases of transmodiolar tumor growth could be achieved only with incomplete tumor removal, whereas tumors with transmacular growth could be completely removed. All six patients with CI had good word recognition scores for numbers in quiet conditions (80–100% at 65 dB SPL, not later than 6 to 12 months post CI activation). Four of these six patients achieved good to very good results for monosyllabic words within 1–36 months (65–85% at 65 dB SPL). The two other patients, however, had low scores for monosyllables at 6 months (25 and 15% at 65 dB SPL, respectively) with worsening of results thereafter.
Conclusions
Cochleovestibular schwannomas with transmodiolar and transmacular extension represent a rare entity with specific management requirements. Hearing rehabilitation with CI is a principal option in these patients.