01.12.2014 | Research article | Ausgabe 1/2014 Open Access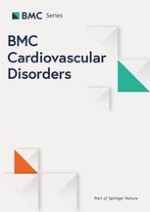 Manipulation of valve composition to elucidate the role of collagen in aortic valve calcification
Zeitschrift:
Autoren:

Karien J Rodriguez, Laura M Piechura, Ana M Porras, Kristyn S Masters
Wichtige Hinweise
Electronic supplementary material
The online version of this article (doi:
10.​1186/​1471-2261-14-29
) contains supplementary material, which is available to authorized users.
Competing interests
The authors have no competing interests to declare.
Authors' contributions
KR and LP participated in leaflet characterization and phenotype analyses. AP participated in leaflet characterization. KR, LP, and AP participated in the design of the study, performed statistical analyses, and participated in data interpretation. KM conceived of the study and participated in its design and coordination and in data interpretation. KR and KM drafted the manuscript. All authors read and approved the final manuscript.
Abstract
Background
Extracellular matrix (ECM) disarray is found in calcific aortic valvular disease (CAVD), yet much remains to be learned about the role of individual ECM components in valvular interstitial cell (VIC) function and dysfunction. Previous clinical analyses have shown that calcification is associated with decreased collagen content, while previous
in vitro
work has suggested that the presence of collagen attenuates the responsiveness of VICs to pro-calcific stimuli. The current study uses whole leaflet cultures to examine the contributions of endogenous collagen in regulating the phenotype and calcification of VICs.
Methods
A "top-down" approach was used to characterize changes in VIC phenotype in response to collagen alterations in the native 3D environment. Collagen-deficient leaflets were created via enzymatic treatment and cultured statically for six days
in vitro
. After culture, leaflets were harvested for analysis of DNA, proliferation, apoptosis, ECM composition, calcification, and gene/protein expression.
Results
In general, disruption of collagen was associated with increased expression of disease markers by VICs in whole organ leaflet culture. Compared to intact control leaflets, collagen-deficient leaflets demonstrated increased VIC proliferation and apoptosis, increased expression of disease-related markers such as alpha-smooth muscle actin, alkaline phosphatase, and osteocalcin, and an increase in calcification as evidenced by positive von Kossa staining.
Conclusions
These results indicate that disruption of the endogenous collagen structure in aortic valves is sufficient to stimulate pathological consequences in valve leaflet cultures, thereby highlighting the importance of collagen and the valve extracellular matrix in general in maintaining homeostasis of the valve phenotype.