14.06.2016 | Original Research | Ausgabe 3/2016 Open Access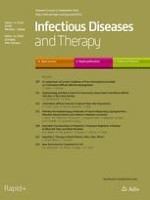 Maraviroc Intensification Improves Endothelial Function in Abacavir-Treated Patients, an Open-Label Randomized Cross-Over Pilot Study
Zeitschrift:
Autoren:

Maaike Krikke, Kiki Tesselaar, Joop E. Arends, Julia Drylewicz, Sigrid A. Otto, Steven F. L. van Lelyveld, Frank J. L. Visseren, Andy I. M. Hoepelman
Wichtige Hinweise
Electronic supplementary material
The online version of this article (doi:
10.​1007/​s40121-016-0115-0
) contains supplementary material, which is available to authorized users.
Abstract
Background
The increased risk of abacavir in cardiovascular disease (CVD) in HIV-infected patients is still being debated. Maraviroc, a CCR5 blocker, has been shown to decrease immune activation and monocyte infiltration in atherosclerotic plaques in murine experiments. Therefore, we examined the effect of maraviroc intensification on flow-mediated dilatation (FMD) in abacavir-treated HIV-infected patients and its effect on immunological and inflammatory parameters.
Methods
A open-label prospective crossover study with a duration of 16 weeks: 8 weeks of intervention (maraviroc intensification) and 8 weeks of control (unchanged cART regimen). FMD, HIV-specific variables, expression of HIV co-receptors, markers of inflammation and coagulation and cellular markers of immune activation were measured at weeks 0, 8 and 16. The changes (Δ) in these variables were compared between intervention and control periods using non-parametric tests. To evaluate the relation with the change in FMD, linear regression modeling was used.
Results
Twenty-one male patients with suppressed plasma HIV-RNA, on cART, had a known HIV infection for 9.2 years (IQR 6.9–13.5) with abacavir use for 6.5 years (2.8–9.3). A significantly increased FMD of 0.73% (IQR −0.25 to 1.70) was seen after maraviroc intensification compared to a decrease of −0.42% (IQR −1.89 to 0.25;
p
= 0.049) in the control period. There was a negative relation between ΔFMD with ΔD-dimer (
β
−22.70, 95% CI −39.27; −6.13,
p
= 0.011) and ΔCD95+ CD4+ T cells (
β
−0.16, 95% CI −0.28; −0.04,
p
= 0.013), adjusted for age and duration of HIV.
Conclusion
Maraviroc intensification modestly improves endothelial function in HIV-infected patients on an abacavir-containing regimen.
Trial registration
NCT01389063.