Erschienen in: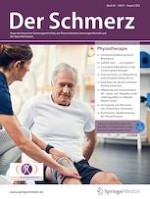 22.12.2021 | Massage | Schwerpunkt
Effektivität physiotherapeutischer Behandlungsmaßnahmen in Bezug auf die Schmerzintensität, -dauer und -frequenz sowie Lebensqualität von Patient*innen mit Migräne
Eine systematische Übersichtsarbeit
Erschienen in: Der Schmerz | Ausgabe 4/2022
Einloggen, um Zugang zu erhalten
Zusammenfassung
Hintergrund
Die präventive Behandlung von Migräne besteht nach aktuellen Leitlinien in einer Kombination medikamentöser und nichtmedikamentöser Behandlungen. Physiotherapie könnte eine Option für das nichtmedikamentöse Migränemanagement darstellen.
Ziel der Arbeit
Ziel war es, die Effektivität physiotherapeutischer Maßnahmen in Bezug auf die Schmerzintensität, -dauer und -frequenz sowie Lebensqualität von Patient*innen mit Migräne zu untersuchen.
Methodik
Eine systematische Literaturrecherche wurde in vier Datenbanken durchgeführt: Physiotherapy Evidence Database (PEDro), Web of Science, MEDLINE via PubMed und Cochrane Library. Es wurde nach randomisierten, kontrollierten Studien (RCT) gesucht, die bis Ende Juli 2021 publiziert wurden und die Effektivität von physiotherapeutischen Behandlungsmaßnahmen bei Migränepatient*innen erforschten. Studien, die keine Erwachsenenpopulation, keine von Physiotherapeut*innen durchgeführte Maßnahmen oder keine geeigneten Endpunkte untersuchten, wurden ausgeschlossen. Die Bewertung des Biasrisikos erfolgte mit der überarbeiteten Version des Cochrane Risk of Bias Tool 2.0. Eine deskriptive und quantitative Synthese mittels Mittelwertdifferenz mit einem Random-effects-Modell und 95 %-Konfidenzintervall wurde durchgeführt.
Ergebnisse
Es wurden 13 RCT mit einer Gesamtzahl von 595 Patient*innen eingeschlossen. Vier dieser Studien wiesen ein hohes Biasrisiko, 2 ein niedriges Biasrisiko und die restlichen 7 Studien "einige Bedenken" bezüglich des Biasrisikos auf. Untersuchte Interventionen waren multimodale Behandlungsmaßnahmen, verschiedene Mobilisationstechniken, Triggerpunkttherapie, manuelle Lymphdrainage, Massage und verschiedene Dehntechniken. Alle untersuchten Interventionen hatten einen signifikant positiven Effekt auf die ausgewählten Parameter im Vergleich zu den Ausgangswerten. Klinisch relevant waren die Effekte aber v. a. bei multimodalen physiotherapeutischen Therapiemaßnahmen.
Schlussfolgerung
Die Studienlage legt nahe, dass physiotherapeutische, multimodale Behandlungsmaßnahmen eine gute Ergänzung zur Medikation sind und somit als nichtmedikamentöse Behandlung für Patient*innen mit Migräne geeignet sind. Es sind jedoch weitere RCT mit einem niedrigen Biasrisiko notwendig, um die Effektivität mit qualitativ hochwertiger Evidenz zu stützen.