01.01.2021 | Basic and Applied Science (I Lewkowich, Section Editor) | Ausgabe 1/2021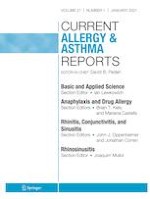 Mast Cell-Specific MRGPRX2: a Key Modulator of Neuro-Immune Interaction in Allergic Diseases
Zeitschrift:
Autoren:

Monica Thapaliya, Chalatip Chompunud Na Ayudhya, Aetas Amponnawarat, Saptarshi Roy, Hydar Ali
Wichtige Hinweise
This article is part of the Topical Collection on
Basic and Applied Science
Publisher's Note
Springer Nature remains neutral with regard to jurisdictional claims in published maps and institutional affiliations.
Abstract
Purpose of Review
Atopic dermatitis (AD) and allergic asthma are complex disorders with significant public health burden. This review provides an overview of the recent developments on Mas-related G protein-coupled receptor-X2 (MRGPRX2; mouse counterpart MrgprB2) as a potential candidate to target neuro-immune interaction in AD and allergic asthma.
Recent Findings
Domestic allergens directly activate sensory neurons to release substance P (SP), which induces mast cell degranulation via MrgprB2 and drives type 2 skin inflammation in AD. MRGPRX2 expression is upregulated in human lung mast cells and serum of asthmatic patients. Both SP and hemokinin-1 (HK-1 generated from macrophages, bronchial cells, and mast cells) cause degranulation of human mast cells via MRGPRX2.
Summary
MrgprB2 contributes to mast cell-nerve interaction in the pathogenesis of AD. Furthermore, asthma severity is associated with increased MRGPRX2 expression in mast cells. Thus, MRGPRX2 could serve as a novel target for modulating AD and asthma.