08.05.2020 | Mastozytose | Übersicht | Ausgabe 3/2020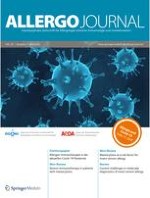 Mastocytosis as a risk factor for insect venom allergy
Zeitschrift:
Autoren:

Patrizia Bonadonna, Elisa Boni, Roberta Zanotti
Abstract
Background:
Clonal mast cell disorders (CMD) are characterised by the proliferation and accumulation of mast cells in bone marrow, skin and other tissues. The prevalence of CMD in patients with systemic hymenoptera venom allergy (HVA) is higher than in the general population.
Methods:
A review based on evidence from a thorough search in MEDLINE of the literature on CMD and its connection to HVA is presented.
Results:
Hymenoptera venom sting represents the most common trigger of anaphylaxis in adult mastocytosis patients and the anaphylactic reactions of patients with CMD and HVA are characterised by the absence of angioedema and erythema and the predominance of cardiovascular symptoms.
Conclusions:
Mastocytosis represents a risk factor for severe reaction in patients with HVA. An early diagnosis of CMD in these patients is very important since they are at high risk of severe osteoporosis and early therapy can be immediately started. Moreover, proper advice and prescription of adrenaline can be assessed. Finally, in order to stop venom immunotherapy or whether to continue it lifelong, diagnosis of CMD has to be carried out.