01.03.2013 | Regular Article | Ausgabe 2/2013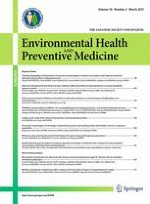 Maternal and paternal family history of type 2 diabetes differently influence lipid parameters in young nondiabetic Japanese women
Zeitschrift:
Autoren:

Kemal Sasaki, Aya Yoshida, Hiroshi Ohta, Yoshiharu Aizawa, Akiko Kojima, Hitomi Chiba, Shin Mizuguchi, Tatsunori Ishidzuka, Hiroshi Goto, Chiho Uegaki, Kyuhei Kotake
Abstract
Objectives
We assessed the association of family history of type 2 diabetes (T2D) with parameters used for health checkups in young Japanese women.
Methods
The subjects were 497 nondiabetic women aged 19–39 years. Among them, the mothers of 34 subjects and fathers of 50 had T2D (MD group and PD group, respectively). The subjects were assessed for levels of total cholesterol (TC), low-density lipoprotein cholesterol (LDL-C), high-density lipoprotein cholesterol (HDL-C), and triglyceride (TG).
Results
TC and LDL-C level showed a tendency to increase in the MD group compared with subjects without family history of T2D. LDL-C/HDL-C ratio ≥2.14 was found in 32.4 and 18.0 % of subjects in the MD and PD groups, respectively. When adjusted for differences in age, body mass index, smoking status, and drinking habits, the MD group was found to have a higher risk of abnormal TC and LDL-C levels than the PD group. LDL-C/HDL-C ratio was independently associated with maternal family history but not with paternal family history (odds ratio 3.44 [99 % confidence interval 1.11–10.6] and 1.21 [0.38–3.89], respectively). There was no association between TG/HDL-C ratio and family history type of T2D.
Conclusions
Maternal family history of T2D had a more pronounced effect on the lipid parameters generally evaluated during health checkups than did paternal family history of T2D. Therefore, we recommend systematic screening for early detection and appropriate healthcare guidance for Japanese women, particularly those with maternal family history of T2D.