01.12.2017 | Primary Research | Ausgabe 1/2017 Open Access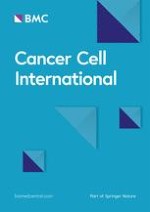 Matrine combined with cisplatin synergistically inhibited urothelial bladder cancer cells via down-regulating VEGF/PI3K/Akt signaling pathway
Zeitschrift:
Autoren:

Xiao-Zhong Liao, Lan-Ting Tao, Jia-Hui Liu, Yue-Yu Gu, Jun Xie, Yuling Chen, Mei-Gui Lin, Tao-Li Liu, Dong-Mei Wang, Hai-Yan Guo, Sui-Lin Mo
Wichtige Hinweise
Xiao-Zhong Liao, Lan-Ting Tao and Jia-Hui Liu contributed equally to this work
Abstract
Background
Cisplatin is one of the first-line drugs for urothelial bladder cancer (UBC) treatment. However, its considerable side effects and the emergence of drug resistance are becoming major limitations for its application. This study aimed to investigate whether matrine and cisplatin could present a synergistic anti-tumor effect on UBC cells.
Methods
Cell viability assay was used to assess the suppressive effect of matrine and cisplatin on the proliferation of the UBC cells. Wound healing assay and transwell assay were applied respectively to determine the migration and invasion ability of the cells. The distribution of cell cycles, the generation of reactive oxygen species (ROS) and the apoptosis rate were detected by flow cytometry (FCM). The expressions of the relative proteins in apoptotic signal pathways and the epithelial–mesenchymal transition (EMT) related genes were surveyed by western blotting. The binding modes of the drugs within the proteins were detected by CDOCKER module in DS 2.5.
Results
Both matrine and cisplatin could inhibit the growth of the UBC cells in a time- and dose-dependent manner. When matrine combined with cisplatin at the ratio of 2000:1, they presented a synergistic inhibitory effect on the UBC cells. The combinative treatment could impair cell migration and invasion ability, arrest cell cycle in the G1 and S phases, increase the level of ROS, and induce apoptosis in EJ and T24 cells in a synergistic way. In all the treated groups, the expressions of E-cadherin, β-catenin, Bax, and Cleaved Caspase-3 were up-regulated, while the expressions of Fibronectin, Vimentin, Bcl-2, Caspase-3, p-Akt, p-PI3K, VEGFR2, and VEGF proteins were down-regulated, and among them, the combination of matrine and cisplatin showed the most significant difference. Molecular docking algorithms predicted that matrine and cisplatin could be docked into the same active sites and interact with different residues within the tested proteins.
Conclusions
Our results suggested that the combination of matrine and cisplatin could synergistically inhibit the UBC cells' proliferation through down-regulating VEGF/PI3K/Akt signaling pathway, indicating that matrine may serve as a new option in the combinative therapy in the treatment of UBC.