01.12.2019 | Research | Ausgabe 1/2019 Open Access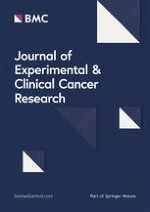 MAZ promotes prostate cancer bone metastasis through transcriptionally activating the KRas-dependent RalGEFs pathway
Zeitschrift:
Autoren:

Qing Yang, Chuandong Lang, Zhengquan Wu, Yuhu Dai, Shaofu He, Wei Guo, Shuai Huang, Hong Du, Dong Ren, Xinsheng Peng
Wichtige Hinweise
Electronic supplementary material
Qing Yang, Chuandong Lang and Zhengquan Wu contributed equally to this work.
Publisher's Note
Springer Nature remains neutral with regard to jurisdictional claims in published maps and institutional affiliations.
Abstract
Background
Clinically, prostate cancer (PCa) exhibits a high avidity to metastasize to bone. Myc-associated zinc-finger protein (MAZ) is a well-documented oncogene involved in the progression and metastasis of multiple cancer types, even in PCa. However, the clinical significance and biological roles of MAZ in bone metastasis of PCa remain unclear.
Methods
MAZ expression was examined in PCa tissues with bone metastasis, PCa tissues without bone metastasis and metastatic bone tissues by real-time PCR and immunohistochemistry (IHC), respectively. Statistical analysis was performed to evaluate the clinical correlation between MAZ expression and clinicopathological features and bone metastasis-free survival in PCa patients. Biological roles of MAZ in bone metastasis of PCa were investigated both in vitro by transwell assay, and in vivo by a mouse model of left cardiac ventricle inoculation. The bioinformatics analysis, western blot, pull-down assays, chromatin immunoprecipitation (ChIP) and luciferase reporter assays were applied to demonstrate and examine the relationship between MAZ and its potential downstream signalling pathway. TaqMan copy number assay was performed to identify the underlying mechanism responsible for MAZ overexpression in PCa tissues.
Results
MAZ expression is elevated in PCa tissues with bone metastasis compared with that in PCa tissues without bone metastasis, and is further increased in metastatic bone tissues. High expression of MAZ positively correlates with poor overall and bone metastasis-free survival in PCa patients. Upregulating MAZ elevates, while silencing MAZ represses the invasion and migration abilities of PCa cells in vitro and bone metastasis ability in vivo. Our results further reveal that MAZ promotes bone metastasis of PCa dependent on KRas signalling, although MAZ transcriptionally upregulates KRas and HRas expression, where the Ral guanine nucleotide exchange factor (RalGEF) signaling is responsible for the different roles of KRas and HRas in mediating the pro-bone metastasis of MAZ in PCa. Finally, our results indicate that recurrent gains contribute to MAZ overexpression in a small portion of PCa tissues.
Conclusion
These results indicate that the MAZ/Kras/ RalGEF signalling axis plays a crucial role in promoting PCa cell bone metastasis, suggesting a potential therapeutic utility of MAZ in bone metastasis of PCa.