01.12.2015 | Case report | Ausgabe 1/2015 Open Access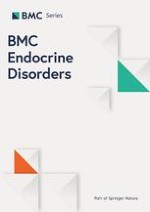 Mazabraud's syndrome and thyroid cancer, a very rare and confusing association: a case report
Zeitschrift:
Autoren:

Doina Piciu, Elena Barbus, Andra Piciu, Bogdan Fetica
Wichtige Hinweise
Competing interests
The authors declare that they have no competing interests.
Authors' contributions
DP and EB treated the patient and drafted the article. BF performed the pathology exams. AP participated in the analysis and interpretation of data and together with DP and EB critically revised the manuscript. All authors read and approved the final manuscript.
Abstract
Background
Mazabraud's syndrome is defined as the association between fibrous dysplasia and intramuscular myxomas. The syndrome was first described in 1967 and, up until now, less than 100 cases have been reported worldwide. Here we report the association between this rare syndrome and thyroid cancer. When a malignant disease occurs in a patient affected by this syndrome, the differential diagnosis between benign and malignant bone lesions should be undertaken carefully.
Case presentation
We report the case of a 57-year-old Caucasian male, admitted for diffuse bone pain localized in the left leg and for the presence of an indolent, slow-growing mass in the left shoulder. The patient also presented with a thyroid nodule, highly suggestive of a malignancy. The radiologic examination showed multiple osteolytic lesions. The suspicion of multiple myeloma or bone metastases arising from a thyroid cancer was considered. Electrophoresis of proteins was negative and therefore excluded the diagnosis of multiple myeloma; the thyroid surgery was indicated. Thyroidectomy confirmed the papillary thyroid carcinoma, and the bone lesions were considered to be metastases from the thyroid cancer. After surgery, under thyroid-stimulated hormonal conditions, the patient underwent radioiodine therapy and a post-therapy radioiodine whole body scan. The lack of radioiodine uptake, both in the bone lesions and shoulder mass, suggested the possibility of less differentiated, non-avid radioiodine lesions, or the absence of any relation between pathologies. Considering the low level of the specific tumor marker, thyroglobulin, a bone biopsy and resection of the shoulder mass were indicated. The final diagnosis was intramuscular myxoma with polyostotic fibrous dysplasia in the deltoid muscle (Mazabraud's syndrome). A completely incidental cerebral tumor lesion was also discovered.
Conclusion
During the evolution of a malignant disease, Mazabraud's syndrome, known as the association of intramuscular myxoma with fibrous dysplasia, should be considered in the differential diagnosis of bone metastasis. This is the first report in the literature of Mazabraud's syndrome occurring in a patient with thyroid cancer.