07.08.2018 | Original Article | Ausgabe 12/2018 Open Access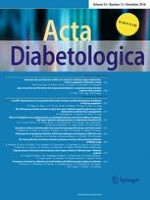 MC1568 improves insulin secretion in islets from type 2 diabetes patients and rescues β-cell dysfunction caused by Hdac7 upregulation
Zeitschrift:
Autoren:

Mahboubeh Daneshpajooh, Lena Eliasson, Karl Bacos, Charlotte Ling
Wichtige Hinweise
Managed by Massimo Porta.
The authors dedicate this article to the memory of Mahboubeh Daneshpajooh, who sadly passed away during the preparation of the manuscript.
Karl Bacos and Charlotte Ling have contributed equally.
Abstract
Aims
It has in recent years been established that epigenetic changes contribute to β-cell dysfunction and type 2 diabetes (T2D). For example, we have showed that the expression of histone deacetylase 7 (HDAC7) is increased in pancreatic islets of individuals with T2D and that increased levels of Hdac7 in β-cells impairs insulin secretion. The HDAC inhibitor MC1568 rescued this secretory impairment, suggesting that inhibitors specific for HDAC7 may be useful clinically in the treatment of T2D. The aim of the current study was to further explore HDAC7 as a novel therapeutic target in T2D.
Methods
Hdac7 was overexpressed in clonal β-cells followed by the analysis of insulin secretion, mitochondrial function, as well as cell number and apoptosis in the presence or absence of MC1568. Furthermore, the effect of MC1568 on insulin secretion in human pancreatic islets from non-diabetic donors and donors with T2D was also studied.
Results
Overexpression of Hdac7 in clonal β-cells significantly reduced insulin secretion, mitochondrial respiration, and ATP content, while it increased apoptosis. These impairments were all rescued by treatment with MC1568. The inhibitor also increased glucose-stimulated insulin secretion in islets from donors with T2D, while having no effect on islets from non-diabetic donors.
Conclusions
HDAC7 inhibition protects β-cells from mitochondrial dysfunction and apoptosis, and increases glucose-stimulated insulin secretion in islets from human T2D donors. Our study supports specific HDAC7 inhibitors as novel options in the treatment of T2D.