22.01.2019 | Ausgabe 7/2019 Open Access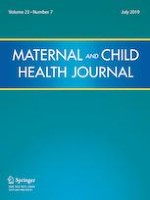 MCH Workforce Capacity: Maximizing Opportunities Afforded by a Changing Public Health System
Zeitschrift:
Autoren:

Ilana G. Raskind, Theresa Chapple-McGruder, Dara D. Mendez, Michael R. Kramer, Karen D. Liller, Dorothy Cilenti, Martha Slay Wingate, Brian C. Castrucci, Elizabeth Gould, Caroline Stampfel
Wichtige Hinweise
Publisher's Note
Springer Nature remains neutral with regard to jurisdictional claims in published maps and institutional affiliations.
Abstract
Objectives
A skilled workforce is essential to advancing maternal and child health (MCH) in a rapidly changing public health system. Little is known about the MCH workforce's existing capacity to maximize opportunities afforded by ongoing change. We assessed MCH workforce capacity in three areas: Systems Integration, Evidence-Based Decision-Making, and Change Management/Adaptive Leadership. We then examined associations between workforce capacity and modifiable workforce development strategies/resources.
Methods
Data are from the Public Health Workforce Interests and Needs Survey (PH WINS). The present study was limited to employees working in MCH programs (weighted N = 3062). Workforce capacity was operationalized as self-reported awareness of public health trends and proficiency to perform related skills in the three areas. Survey-weighted generalized estimating equations were used to fit logistic regression models accounting for employee clustering within states.
Results
While awareness of public health trends was low, the majority of employees (> 70% in each area) reported proficiency to perform skills related to these trends. Capacity was lowest in Systems Integration. Employee engagement in academic partnerships and higher state contributions to MCH program budgets were the strategies/resources most consistently associated with higher capacity. Workplace support was the strongest correlate of capacity in Change Management/Adaptive Leadership.
Conclusions for Practice
Although employees lacked familiarity with specific public health trends, they were proficient in skills needed to engage in related work. Still, areas for improvement remain. Results provide a baseline against which future training efforts can be evaluated. Academic partnerships and MCH program funding may be useful to prioritize in the context of health transformation.