01.12.2018 | Research | Ausgabe 1/2018 Open Access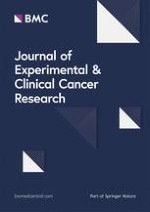 MCM6 promotes metastasis of hepatocellular carcinoma via MEK/ERK pathway and serves as a novel serum biomarker for early recurrence
Zeitschrift:
Autoren:

Mingyu Liu, Qiaoting Hu, Mengxian Tu, Xinyi Wang, Zike Yang, Guoxiong Yang, Rongcheng Luo
Wichtige Hinweise
Electronic supplementary material
Abstract
Background
The high incidence of recurrence and metastasis of hepatocellular carcinoma (HCC) necessitate the discovery of new predictive biomarkers of invasion and prognosis. Minichromosome maintenance complex component 6 (MCM6), which has been reported to up-regulate in multiple malignancies, was considered to be a novel diagnoses biomarker in HCC. However, its functional contributions and prognostic value remain unclear.
Methods
The expression of MCM6 was analyzed in 70 HCC tissues and 5 HCC cell lines by immunohistochemistry and real-time RT-PCR. The roles of MCM6 in HCC cell proliferation, migration and invasion were explored by CCK8, Wound healing and Transwell assays, respectively. Western blotting and Immunofluorescence staining were conducted to detect the protein expressions of ERK signaling pathway and EMT-related markers. To verify the above findings in vivo, we established subcutaneous xenograft tumor and orthotopic xenograft tumor models in nude mice. Finally, Enzyme-linked immunosorbent assay was used to evaluate the serum MCM6 level.
Results
MCM6 was significantly up-regulated in HCC tissues. Increased MCM6 expression was associated with aggressive clinicopathological features and worse prognosis in HCC patients. These results were consistent with our analyses of The Cancer Genome Atlas database (TCGA). Furthermore, knockdown of MCM6 significantly decreased proliferative and migratory/invasive capability of HCC cells in vitro, as well as decreased tumor volume, weight and the number of pulmonary metastases in vivo. Mechanistic analyses indicated that MCM6 promoted EMT and activated MEK/ERK signaling. More importantly, serum MCM6 levels in HCC patients were significantly higher than those in cirrhosis and healthy controls (
P
 < 0.0001), and allowed distinguishing early recurrence with high accuracy (AUC = 0.773).
Conclusions
Our findings indicate that MCM6 predicts poor prognosis and promotes metastasis in HCC. Postoperative serum MCM6 level could be valuable to detect preclinical early recurrence, indicative of a need for more careful surveillance and aggressive therapeutic intervention.