01.06.2014 | Original Article | Ausgabe 5/2014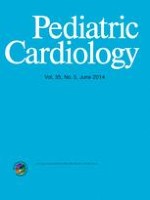 Measurement of Oxygen Consumption in Children Undergoing Cardiac Catheterization: Comparison Between Mass Spectrometry and the Breath-by-Breath Method
Zeitschrift:
Autoren:

Long Guo, Yong Cui, Scott Pharis, Mark Walsh, Joseph Atallah, Meng-Wei Tan, Jennifer Rutledge, J. Y. Coe, Ian Adatia
Abstract
Accurate measurement of oxygen consumption (VO
2
) is important to precise calculation of blood flow using the Fick equation. This study aimed to validate the breath-by-breath method (BBBM) of measuring oxygen consumption VO
2
compared with respiratory mass spectroscopy (MS) for intubated children during cardiac catheterization. The study used MS and BBBM to measure VO
2
continuously and simultaneously for 10 min in consecutive anesthetized children undergoing cardiac catheterization who were intubated with a cuffed endotracheal tube, ventilated mechanically, and hemodynamically stable, with normal body temperature. From 26 patients, 520 data points were obtained. The mean VO
2
was 94.5 ml/min (95 % confidence interval [CI] 65.7–123.3 ml/min) as measured by MS and 91.4 ml/min (95 % CI 64.9–117.9 ml/min) as measured by BBBM. The mean difference in VO
2
measurements between MS and BBBM (3.1 ml/min; 95 % CI −1.7 to +7.9 ml/min) was not significant (
p
= 0.19). The MS and BBBM VO
2
measurements were highly correlated (
R
2
= 0.98;
P
< 0.0001). Bland–Altman analysis showed good correspondence between MS and BBBM, with a mean difference of −3.01 and 95 % limits of agreement ranging from −26.2 to +20.0. The mean VO
2
indexed to body surface area did not differ significantly between MS and BBBM (3.4 ml/min m
2
; 95 % CI −1.4 to 8.2;
p
= 0.162). The mean difference and limits of agreement were −3.8 ml/min m
2
(range, −19.9 to 26.7). Both MS and BBBM may be used to measure VO
2
in anesthetized intubated children undergoing cardiac catheterization. The two methods demonstrated excellent agreement. However, BBBM may be more suited to clinical use with children.