01.03.2012 | Original Article | Ausgabe 3/2012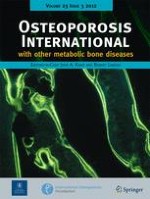 Measuring health-related quality of life (HRQOL) in osteoporotic males using the Male OPAQ
Zeitschrift:
Autoren:

S. L. Solimeo, S. L. Silverman, A. D. Calderon, A. Nguyen, D. T. Gold
Wichtige Hinweise
This work was presented at the 31st Annual Meeting of the American Society for Bone and Mineral Research 11–15 September 2009, Denver, CO. A Nguyen, S Solimeo, D Gold, S Silverman. Reliability and Validity of Male OPAQ in Assessing QOL in Osteoporotic Males
Abstract
Summary
The Male Osteoporosis Assessment Questionnaire (OPAQ™) is a health-related quality of life (HRQOL) instrument that can differentiate between men with and without fracture. The Male OPAQ™ is a reliable and validated instrument that may be utilized in clinical trials seeking to include male populations.
Introduction
Men with osteoporosis (OP) experience poorer clinical outcomes than do women with the disorder, but little is known about the impact of OP on men's HRQOL. This study aimed to test the validity, reliability, and ability to differentiate between men with and without fracture of an HRQOL for men with osteoporosis, the Male OPAQ™.
Methods
The OPAQ and OPAQ-SV were tested for face validity in interviews with male OP patients, and a revised, male-specific instrument was developed. Thirty-seven men ages 50+ completed the Male OPAQ™ and SF-12 at baseline and a two-week retest of the Male OPAQ™. To analyze both the domain and dimension scores, a normalization procedure was performed on the data to determine health status scores from 0 to 100. Descriptive statistics were calculated for each item and site. Reliability and validity of the Male OPAQ™ were assessed using Pearson's
r
.
Results
The Male OPAQ™ can discriminate between men with and without fracture, and men who have more fractures have poorer scores. Instrument domains correspond to those of the SF-12.
Conclusions
The Male OPAQTM is a brief and sensitive tool for measuring HRQOL in men with OP. Further testing in a more diverse and large sample is warranted.