28.01.2020 | Original Article | Ausgabe 1/2020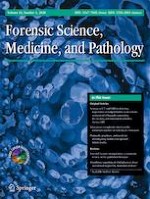 Mechanism of brain swelling in cases of brain evisceration due to catastrophic craniocerebral injury – an autopsy study
Zeitschrift:
Autoren:

Vladimir Živković, Danica Cvetković, Danilo Obradović, Slobodan Nikolić
Wichtige Hinweise
Publisher's note
Springer Nature remains neutral with regard to jurisdictional claims in published maps and institutional affiliations.
Abstract
Some previously reported cases of brain evisceration in catastrophic craniocerebral injuries showed the presence of brain swelling. The aim of this study was to observe the occurrence of focal or diffuse brain swelling in such cases in order to explain the underlying mechanism. An observational autopsy study included 23 adults, 18 males and 5 females, whose average age was 48 ± 22 years (range: 19–89 years) and who died as the result of catastrophic craniocerebral injury with brain evisceration. In all the examined cases, either focal (12 cases) or diffuse (11 cases) brain swelling was present. Grossly visible brain contusions (either cortical or deep) were rarely present – only in 6 out of 23 cases, while microscopic brain contusions were observed in 22 out of 23 cases, with 1 remaining case of microscopic subarachnoid bleeding. Blood aspiration in the lungs, as a vital reaction, was noted in 20 out of 23 cases. Microscopic examination showed absence of edema in 20 cases and mild edema in only 3 cases, while microscopic signs of moderate or severe edema were absent. Brain swelling in cases of brain evisceration likely represents a biomechanical reaction (i.e. decompression) due to a sudden decrease in intracranial pressure. The rapidity of death, together with marked absence of microscopic signs of edema, suggests that this is not a form of biological response to injury, but rather a pure physical phenomenon, strictly in a living person. In such cases, the occurrence of brain swelling and parenchymal microbleeding should be considered vital reactions.