01.01.2021 | Rhinitis, Conjunctivitis, and Sinusitis (JJ Oppenheimer and J Corren, Section Editors) | Ausgabe 1/2021 Open Access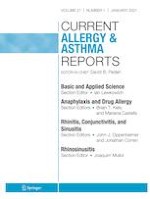 Mechanisms of Allergen Immunotherapy in Allergic Rhinitis
Zeitschrift:
Autoren:

Gabija Drazdauskaitė, Janice A. Layhadi, Mohamed H. Shamji
Wichtige Hinweise
This article is part of the Topical Collection on
Rhinitis, Conjunctivitis, and Sinusitis
Publisher's Note
Springer Nature remains neutral with regard to jurisdictional claims in published maps and institutional affiliations.
Abbreviations
DP
Dermatophagoides pteronyssinus
(en. house dust mite)
ECP
Eosinophil cationic protein
IgE-FAB
IgE-facilitated antigen binding
ILC2
Group 2 innate lymphoid cell
PAR
Perennial allergic rhinitis
PBMC
Peripheral blood mononuclear cell
PNIF
Peak nasal inspiratory flow
SAR
Seasonal allergic rhinitis
SATB1
Special AT-rich sequence binding protein 1
SCIT
Subcutaneous immunotherapy
TFH
T follicular helper cells
TH2A
Allergen-specific TH2 cells
TNSS
Total nasal symptom score
TSLP
Thymic stromal lymphopoietin
Introduction
Allergic rhinitis (AR) is a chronic inflammatory disease of the lining of nasal mucosa induced by type I hypersensitivity response upon exposure to common inhaled allergens in sensitized individuals [
1
]. AR affects up to 40% of worldwide population with an increasing prevalence over the past 20 years [
2
–
8
]. It is associated with significantly lower quality of life due to impaired sleep, learning difficulties, deterioration of at-work performance and social functioning, which highlights AR as a substantial economic burden and a serious global health problem [
8
–
11
].
AR manifests itself through rhinorrhea, sneezing, nasal itching and congestion. Seasonal AR (SAR) is periodically triggered by outdoor allergens, in particular grass, tree or weed pollen. Symptoms of perennial AR (PAR) last throughout the year in response to persistently present indoor allergens, such as house dust mite (HDM), animal dander, insects and mold [
12
,
13
]. It is noteworthy that a proportion of patients displaying nasal reactivity do not exhibit systemic sensitization evidenced by negative skin prick tests (SPT) and undetectable serum-specific IgE (sIgE), an endotype consequently defined as local AR (LAR) [
14
,
15
]. Recent evidence shows that both sensitization patterns in response to different allergens can coexist within the same individual, the proposed term for which is dual AR (DAR) [
16
].
Currently employed pharmacotherapy approaches include antihistamines and intranasal corticosteroids which only provide a temporary symptomatic relief [
12
,
13
]. Furthermore, such treatments fail to attenuate symptoms in 30% to 60% of the patients [
17
,
18
]. Allergen immunotherapy (AIT) is a proposed treatment strategy for such individuals being the single disease-modifying strategy to date. Subcutaneous immunotherapy (SCIT) involves administration of incremental doses of sensitizing allergen for 8–12 weeks followed by high dose monthly interval over the course of 3–5 years. Sublingual immunotherapy (SLIT) involves administration of high doses of the allergen under the tongue. SCIT and SLIT confer long-term clinical benefit and immunologic tolerance after cessation treatment. While SCIT is highly efficient at inducing tolerance to both seasonal and perennial allergens, SLIT is regarded as a safer and more convenient alternative generally in managing SAR [
19
–
21
].
This review will focus on historical and recent advances in understanding the mechanisms of allergy and AIT in the context of AR. Furthermore, novel AIT approaches and predictive/ indicative biomarkers of treatment success will be discussed. Collectively, these findings can support new potential treatment approaches.
Mechanisms of Allergic Rhinitis
Effect of AIT on Adaptive Immune Responses
Conclusions
AR is a serious health problem, affecting the quality of life of a vast proportion of the world's population. Patients that do not respond to conventional anti-allergic medication can benefit from AIT which induces lasting clinical benefit post treatment cessation. Currently, there is a need for biomarkers to optimally select potentially responsive patients and monitoring the efficacy of the treatment. An in-depth understanding of both allergic inflammation and mechanisms of immunotherapy informs potential candidates for monitoring these parameters. Following nasal allergen challenge, EC-derived cytokines prime the development of pro-allergic DC2 and T H2 phenotypes. In the early phase, basophils and mast cells release their mediators upon surface IgE cross-linking by the allergen. These mediators recruit late phase effector T H2 cells which promote local eosinophilia. SCIT and SLIT for perennial and seasonal allergens dampen both innate and adaptive immune responses. Following AIT, reduced local infiltration of basophils, mast cells, eosinophils as well as their corresponding mediators is observed. Furthermore, induction of regulatory DC phenotype leads to the rise of Tregs which skew the immune response from T H2 to T H1 and give rise to the Breg subset. Breg and Treg-derived IL-10 prompts B cells isotype switch and subsequent IgG 4 production. Informed by these mechanisms, current candidate biomarkers for monitoring AIT efficacy are classified into domains of sIgE, sIgG 4, serum inhibitory activity, chemokines and cytokines, basophil activation, cellular changes, and in vivo biomarkers. However, there is no biomarker for monitoring clinical benefit on an individual patient level to date. Further studies need to be conducted to identify and confirm biomarkers, suitable for AIT efficacy monitoring and recognizing potential responders and non-responders.
Compliance with Ethics Standard
Conflict of Interest
The authors declare no conflicts of interest relevant to this manuscript.
Human and Animal Rights and Informed Consent
This article does not contain any studies with human or animal subjects performed by any of the authors.
Open Access
This article is licensed under a Creative Commons Attribution 4.0 International License, which permits use, sharing, adaptation, distribution and reproduction in any medium or format, as long as you give appropriate credit to the original author(s) and the source, provide a link to the Creative Commons licence, and indicate if changes were made. The images or other third party material in this article are included in the article's Creative Commons licence, unless indicated otherwise in a credit line to the material. If material is not included in the article's Creative Commons licence and your intended use is not permitted by statutory regulation or exceeds the permitted use, you will need to obtain permission directly from the copyright holder. To view a copy of this licence, visit
http://​creativecommons.​org/​licenses/​by/​4.​0/​
.
Publisher's Note
Springer Nature remains neutral with regard to jurisdictional claims in published maps and institutional affiliations.