01.09.2014 | Symposium: Management of the Dislocated Knee | Ausgabe 9/2014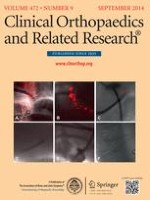 Medial Injury in Knee Dislocations: What Are the Common Injury Patterns and Surgical Outcomes?
Zeitschrift:
Autoren:

MD Brian C. Werner, BS Michael M. Hadeed, MD F. Winston Gwathmey Jr., MD Cree M. Gaskin, PhD, ATC Joseph M. Hart, MD Mark D. Miller
Wichtige Hinweise
Each author certifies that he or she, or a member of his or her immediate family, has no commercial association (eg, consultancies, stock ownership, equity interest, patent/licensing agreements, etc) that might pose a conflict of interest in connection with the submitted article.
All ICMJE Conflict of Interest Forms for authors and
Clinical Orthopaedics and Related Research
®
editors and board members are on file with the publication and can be viewed on request.
Each author certifies that his or her institution approved the human protocol for this investigation, that all investigations were conducted in conformity with ethical principles of research, and that informed consent for participation in the study was obtained.
Abstract
Background
When associated with a knee dislocation, management of the medial ligamentous injury is challenging, with little literature available to guide treatment.
Questions/purposes
We (1) compared MRI findings of medial ligament injuries between Schenck KDIIIM and KDIV injuries, (2) compared clinical outcomes and health-related quality of life as determined by Lysholm and Veterans Rand 36-Item Health Survey (VR-36) scores, respectively, of reconstructed KDIIIM and KDIV injured knees, and (3) determined reoperation rates of reconstructed KDIIIM and KDIV injured knees.
Methods
Over a 12-year period, we treated 65 patients with knee dislocations involving bicruciate ligament injury and concomitant medial ligament injuries, without or with posterolateral corner injuries (Schenck KDIIIM and KDIV, respectively); 57% were available for followup at a mean of 6.2 years (range, 1.1–11.6 years). These patients were contacted, and prospectively measured clinical outcomes scores (Lysholm and VR-36) were obtained and compared between subsets of patients. Preoperative MRIs (available for review on 49% of the patients) were rereviewed to characterize the medial ligament injuries.
Results
KDIIIM injuries more frequently had complete deep medial collateral ligament tears and posterior oblique ligament tears compared to KDIV injuries. KDIIIM knees had better Lysholm scores (88 versus 67, p = 0.027) and VR-36 scores (88 versus 70, p = 0.022) than KDIV knees. Female sex (Lysholm: 55 versus 85, p = 0.005; VR-36: 59 versus 85, p = 0.003) and an ultra-low-velocity mechanism (injury that occurs during activity of daily living in obese patients) (Lysholm: 55 versus 80–89, p = 0.002–0.013; VR-36: 60 versus 79–88, p = 0.001–0.017) were associated with worse outcomes. The overall reoperation rate was 28%, and the most common indication for reoperation was stiffness.
Conclusions
Medial ligament injury is common in knee dislocations. Females who sustain these injuries and patients who have an ultra-low-velocity mechanism should be counseled at the time of injury about the likelihood of inferior outcomes. As ROM deficits are the most commonly encountered complication, postoperative rehabilitation should focus on early ROM exercises as stability and wound healing allow. Future prospective studies are needed to definitively determine whether operative or nonoperative management is appropriate for particular medial ligamentous injury patterns.