01.12.2014 | Ausgabe 4/2014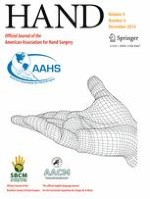 Median nerve compression at the fibrous arch of the flexor digitorum superficialis: an anatomic study of the pronator syndrome
Zeitschrift:
Autoren:

Bev Guo, Angela Wang
Abstract
Background
Flexor digitorum superficialis (FDS) arch is a site of compression in pronator syndrome yet little is known about its anatomic structure. The purpose of the study is to delineate the surgical anatomy of the FDS arch along with its relationship to the anterior interosseous nerve (AIN) takeoff.
Methods
Thirty-eight cadavers were dissected using a modified Henry's approach. The FDS arch was identified, and its distance to the antebrachial crease and medial and lateral epicondyle were measured. The FDS arch was divided in a sequential fashion until adequate decompression of the median nerve was achieved. The total length of the release was measured. The takeoff of the AIN was identified in relation to the FDS arch.
Results
Two types of the FDS arch were discovered, a distinct fibrous arch and an indistinct fibrous arch with vertical fibers blending into overlying fascia. Only 42 % of specimens had a distinct FDS arch averaging 1.69 cm in length. The majority of specimens had an indistinct arch, and of those, 77 % had overlying muscle, requiring an average release of 2.6 cm. The AIN branched at or distal to the FDS arch in 74 % of specimens, and only 8 % was found to have an ulnar-sided origin off the median nerve.
Conclusions
A longer surgical release is needed with indistinct FDS arches. Overlying muscle during dissection may be indicative of an indistinct arch. Dissection along the ulnar side of the median nerve can possibly decrease the chance of injury to the AIN during decompression.