01.05.2014 | Research | Sonderheft 1/2014 Open Access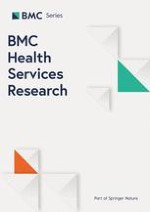 Medical and economic benefits of telehealth in low- and middle-income countries: results of a study in four district hospitals in Mali
Zeitschrift:
Autoren:

Cheick Oumar Bagayoko, Diakaridia Traoré, Laurence Thevoz, Soumahila Diabaté, David Pecoul, Mahamoudane Niang, Georges Bediang, Seydou Tidiane Traoré, Abdrahamane Anne, Antoine Geissbuhler
Wichtige Hinweise
Cheick Oumar Bagayoko, Diakaridia Traoré and Antoine Geissbuhler contributed equally to this work.
Competing interests
The authors declare that they have no competing interests.
Authors' contributions
COB and AG designed the research project and conducted the research. COB wrote the first draft of the manuscript. COB, AA and AG conducted the literature review.
LT, SD, and DP designed the first version of the questionnaire. AG, CO, and DT reviewed the questionnaire. SD, MN, and STT collected data. DT and GB carried out the statistical analysis. COB wrote the final version of the paper. COB, DT, and AG reviewed the final version.
Abstract
Background
The aim of this study was to evaluate the impact of telehealth on 1) the diagnosis, and management in obstetrics and cardiology, 2) health care costs from patients' perspectives, 3) attendance at health centres located in remote areas of Mali.
Methods
The impact of telehealth on health care utilization, quality, and costs was assessed using a five-point Likert-scale based questionnaire consisting of three dimensions. It was completed by health care professionals in four district hospitals. The role of telehealth on attendance at health centres was also assessed based on data collected from the consultations logs before and during the project, between project sites and control sites. Referrals specific to the activities of the research study were also evaluated using a questionnaire to measure the real share of telehealth tools in increasing attendance at project sites. Finally, the cost savings achieved was estimated using the transport and lodging costs incurred if patients were to travel to the capital city for the same tests or care.
Results
The telehealth activities contributed to improving medical diagnoses in cardiology and obstetrics (92.6%) and the patients' management system on site (96.2%). The attendance records at health centres increased from 8 to 35% at all project sites during the study period. Patients from project sites saved an average of 12380 XOF (
CFA Francs
) or 25 USD (American dollar) and a maximum of 35000 XOF or 70 USD compared to patients from neighbouring sites, who must go to the capital city to receive the same care.
Conclusion
We conclude that in Mali, enhanced training in ultrasound / electrocardiography and the introduction of telehealth have improved the health system in remote areas and resulted in high levels of appropriate diagnosis and patient management in the areas of obstetrics and cardiology. Telehealth can also significantly reduce the cost to the patient.