09.01.2020 | Research Article | Ausgabe 1/2020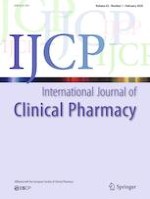 Medication reconciliation upon admission in paediatric hospital setting: preliminary data
Zeitschrift:
Autoren:

Dolores Pilar Iturgoyen Fuentes, Sagrario Martin-Aragon, Margarita Cuervas-Mons Vendrell
Wichtige Hinweise
Publisher's Note
Springer Nature remains neutral with regard to jurisdictional claims in published maps and institutional affiliations.
Abstract
Background
The benefits of medication reconciliation are well established in adult patients, but not in paediatric patients, being a population not included in the guidelines for medication reconciliation published so far. However, it is known that a significant number of children suffer from chronic illnesses leading to a complex pharmacological treatment. Moreover, there are a series of specific factors that cause a greater risk of medication errors in children.
Aim
The purpose of the present study was to determine whether patients from a paediatric hospital setting may benefit from medication reconciliation at hospital admission, in order to prevent and reduce prescribing errors on admission.
Main outcome measures
The primary outcome was the number of discrepancies between best possible medication history and prescribed treatment upon admission and, consequently, number of reconciliation errors. The secondary outcome was the main underlying disease with the highest number of reconciliation errors, and the main pharmacotherapeutic groups involved.
Results
The pharmacist reconciled the medication of 187 patients with an mean age of 6.6 ± 5.1 years. Sixty percent of patients had a base disease and 12.3% had polypharmacy, with an average of 6 drugs per patient. In a 42% of patients, at least one discrepancy was detected between their home treatment and the prescribed treatment upon admission, with 15% of patients having at least one reconciliation error (68% omissions). Neurological diseases were the main underlying disease with at least one reconciliation error (50%). The main pharmacotherapeutic groups involved in reconciliation errors were psychoanaleptic and psycholeptic, anti-acids, antiepileptic, and obstructive airway pharmacotherapy; each accounting for a 17.1%, 14.7%, 11.8% and 11.8% of the total, respectively.
Conclusion
Within our sample of paediatric patients, the rate of medication discrepancy and reconciliation errors at hospital admission was as relevant in terms of pharmacotherapy as has been reported in adults. The most frequent type of errors was omission of some home treatments. The main underlying disease with at least one error was neurological. As a whole, the detection of reconciliation errors in paediatrics by provision of medication reconciliation could be effective in reducing medication errors.