01.12.2017 | Research | Ausgabe 1/2017 Open Access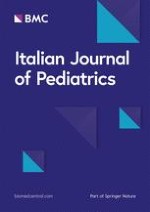 Medication-related visits in a pediatric emergency department: an 8-years retrospective analysis
Zeitschrift:
Autoren:

Cristiano Rosafio, Serena Paioli, Cinzia Del Giovane, Valentina Cenciarelli, Nilla Viani, Paolo Bertolani, Lorenzo Iughetti
Abstract
Background
There are limited data on the characterization of medication-related visits (MRVs) to the emergency department (ED) in pediatric patients in Italy. We have estimated the frequency, severity, and classification of MRVs to the ED in pediatric patients.
Methods
We retrospectively analyzed data for children seeking medical evaluation for a MRV over an 8 years period. A medication-related ED visit was identified by using a random pharmacist assessment, emergency physician assessment, and in case of conflicting events, by a third investigators random assessment.
Results
In this study, regarding a single tertiary center in Italy, on a total of 147,643 patients from 0 to 14 years old, 497 medication-related visits were found, 54% of which occurred in children from 0 to 2 years of age. Severity was classified as mild in 21.6% of cases, moderate in 67.2% of cases, and severe in 11.2% of cases. The most common events were related to drug use without indication (51%), adverse drug reactions (30.3%), supratherapeutic dosage (13.2%) and improper drug selection (4.5%).
The medication classes most frequently implicated in an ADE were anti-infective drugs for systemic use (28.9%), central nervous system agents (22.3%) and respiratory system drugs (10.8%).
The most common symptom manifestations were dermatologic conditions (46.1%), general disorder and administration site conditions (29.7%) and gastrointestinal symptoms (16.0%).
Conclusions
To our knowledge, this is the first study in Italy evaluating the epidemiologic characteristics of MRVs confirming a significant cause of healthcare contact resulting in ED visits and hospital admissions with associated resource utilization. Our results suggests further future prospective, large-sample sized, and multicenter research is necessary to better understand the impact of MRVs and to develop strategies to provide care plans and monitor patients to prevent medication-related visits.
Trial registration
Not applicable.