01.12.2017 | Research article | Ausgabe 1/2017 Open Access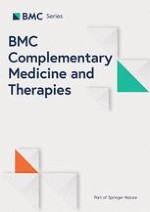 Medication use by middle-aged and older participants of an exercise study: results from the
Brain in Motion

study
Zeitschrift:
Autoren:

Tania Pannu, Sarah Sharkey, Grazyna Burek, Daniela Cretu, Michael D. Hill, David B. Hogan, Marc J. Poulin
Abstract
Background
Over the past 50 years, there has been an increase in the utilization of prescribed, over-the-counter (OTC) medications, and natural health products. Although it is known that medication use is common among older persons, accurate data on the patterns of use, including the quantity and type of medications consumed in a generally healthy older population from a Canadian perspective are lacking. In this study, we study the pattern of medication use in a sedentary but otherwise healthy older persons use and determined if there was an association between medication use and aerobic fitness level.
Methods
All participants enrolled in the
Brain in Motion
study provided the name, formulation, dosage and frequency of any medications they were consuming at the time of their baseline assessment. Maximal aerobic capacity (VO
2
max) was determined on each participant.
Results
Two hundred seventy one participants (mean age 65.9 ± 6.5 years; range 55–92; 54.6% females) were enrolled. Most were taking one or more (1+) prescribed medication (
n
 = 204, 75.3%), 1+ natural health product (
n
 = 221, 81.5%) and/or 1+ over-the-counter (OTC) drug (
n
 = 174, 64.2%). The most commonly used prescribed medications were HMG-CoA reductase inhibitors (statins) (
n
 = 52, 19.2%). The most common natural health product was vitamin D (
n
 = 201, 74.2%). For OTC drugs, non-steroidal anti-inflammatories (
n
 = 82, 30.3%) were the most common. Females were more likely than males to take 1+ OTC medications, as well as supplements. Those over 65 years of age were more likely to consume prescription drugs than their counterparts (
p
 ≤ 0.05). Subjects taking more than two prescribed or OTC medications were less physically fit as determined by their VO
2
max. The average daily Vitamin D intake was 1896.3 IU per participant.
Conclusions
Medication use was common in otherwise healthy older individuals. Consumption was higher among females and those older than 65 years. Vitamin D intake was over two-fold higher than the recommended 800 IU/day for older persons, but within the tolerable upper intake of 4,000 IU/day. The appropriateness of the high rate of medication use in this generally healthy population deserves further investigation.