07.02.2020 | Ausgabe 1/2021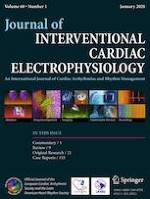 Medium-term results of cardioneuroablation for clinical bradyarrhythmias and vasovagal syncope: effects on QT interval and heart rate
Autoren:

Tolga Aksu, Tumer Erdem Guler, Serdar Bozyel, Sukriye Ebru Golcuk, Kivanc Yalin, Dhanunjaya Lakkireddy, Rakesh Gopinathannair
Wichtige Hinweise
Electronic supplementary material
Publisher's note
Springer Nature remains neutral with regard to jurisdictional claims in published maps and institutional affiliations.
Abstract
Purpose
Although parasympathetic effects of cardioneuroablation (CNA) in vagally mediated bradyarrhythmias (VMB) were studied, sympathetic effects have not been elucidated, yet. We aimed to investigate the acute and medium-term outcomes of CNA as well as the impact of CNA on ventricular repolarization by using corrected QT interval (QTc) measurements.
Methods
Sixty-five patients (58.5% men; age 39.4 ± 14 years) undergoing CNA were included in the study. Patients who underwent CNA due to VMB were divided into two groups: (1) bi-atrial CNA and (2) right-sided CNA. QTc was calculated at 3 time points: before the procedure (time point 1); 24 h post-ablation (time point 2); and at the last follow-up visit (time point 3).
Results
The mean follow-up time was 20.0 ± 20 months. Acute success was achieved in 64 (98.4%) of cases. In the whole cohort, from time point 1 to 2, a significant shortening in QTcFredericia, QTcFramingham, and QTcHodges was observed which remained lower than baseline in time point 3. Although the difference between measurements in time point 1 and 2 was not statistically significant for QTcBazett, a significant shortening was detected between time point 1 and 3. There was significant difference between groups for shortening in QTcFredericia and QTcFramingham (
p
 = 0.01). Event-free survival was detected in 90.7% (59/65) of cases.
Conclusions
Our results demonstrate a significant shortening of QTc in addition to high acute and medium-term success rates after CNA. The most likely mechanism is the effect of CNA on the sympathetic system as well as on the parasympathetic system. Bi-atrial ablation was found related to higher QTc shortening effect.