01.12.2019 | Case Report | Ausgabe 1/2019 Open Access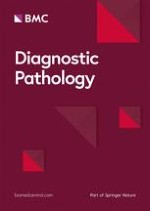 Melanoma arising in a Giant congenital melanocytic nevus: two case reports
Zeitschrift:
Autoren:

Tatiana S. Belysheva, Yana V. Vishnevskaya, Tatiana V. Nasedkina, Marina A. Emelyanova, Ivan S. Abramov, Kristina V. Orlova, Ludmila N. Lubchenko, Igor A. Utyashev, Marina B. Doroshenko, Lev V. Demidov, Mamed D. Aliev
Abstract
Background
A giant congenital melanocytic nevus (GCMN) is found in 0.1% of live-born infants. If present, the lesion has a chance of about 6% to develop into malignant melanoma. Both children and adults can be affected by malignant melanoma arising in a giant congenital nevus. Up to 95% of GCMNs harbor
NRAS
mutations, and mutations in the
BRAF
,
MC1R
,
TP53
, and
GNAQ
genes have also been described. The individualization of therapy is required, but diagnostic and prognostic criteria remain controversial.
Case presentations
We report two cases: 1) melanoma arising in a giant congenital nevus during the first month of life complicated with neurocutaneous melanosis (NCM), and 2) melanoma arising in a giant congenital nevus during the first 6 months of life. Pathology, immunohistochemistry, and genetic analyses of tumor tissue were performed. The first case revealed only a non-pathogenic P72R polymorphism of the
TP53
gene in the homozygote condition. For the second case, a Q61K mutation was detected in the
NRAS
gene.
Conclusion
Malignant melanoma associated with GCMN is rare and therefore poorly understood. Outcomes have been linked to the stage at diagnosis, but no additional pathological prognostic factors have been identified. The most frequent genetic event in giant CMNs is NRAS mutations, which was discovered in one of our cases. To accumulate evidence to improve disease prognosis and outcomes, children with congenital melanocytic nevus should be included in a systemic follow-up study from birth.