01.08.2017 | Original Article | Ausgabe 1/2018 Open Access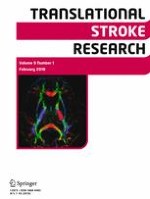 Melatonin Alleviates Intracerebral Hemorrhage-Induced Secondary Brain Injury in Rats via Suppressing Apoptosis, Inflammation, Oxidative Stress, DNA Damage, and Mitochondria Injury
Zeitschrift:
Autoren:

Zhong Wang, Feng Zhou, Yang Dou, Xiaodi Tian, Chenglin Liu, Haiying Li, Haitao Shen, Gang Chen
Wichtige Hinweise
Zhong Wang and Feng Zhou contributed equally to this work.
Abstract
Intracerebral hemorrhage (ICH) is a cerebrovascular disease with high mortality and morbidity, and the effective treatment is still lacking. We designed this study to investigate the therapeutic effects and mechanisms of melatonin on the secondary brain injury (SBI) after ICH. An in vivo ICH model was induced via autologous whole blood injection into the right basal ganglia in Sprague-Dawley (SD) rats. Primary rat cortical neurons were treated with oxygen hemoglobin (OxyHb) as an in vitro ICH model. The results of the in vivo study showed that melatonin alleviated severe brain edema and behavior disorders induced by ICH. Indicators of blood-brain barrier (BBB) integrity, DNA damage, inflammation, oxidative stress, apoptosis, and mitochondria damage showed a significant increase after ICH, while melatonin reduced their levels. Meanwhile, melatonin promoted further increasing of expression levels of antioxidant indicators induced by ICH. Microscopically, TUNEL and Nissl staining showed that melatonin reduced the numbers of ICH-induced apoptotic cells. Inflammation and DNA damage indicators exhibited an identical pattern compared to those above. Additionally, the in vitro study demonstrated that melatonin reduced the apoptotic neurons induced by OxyHb and protected the mitochondrial membrane potential. Collectively, our investigation showed that melatonin ameliorated ICH-induced SBI by impacting apoptosis, inflammation, oxidative stress, DNA damage, brain edema, and BBB damage and reducing mitochondrial membrane permeability transition pore opening, and melatonin may be a potential therapeutic agent of ICH.