21.07.2020 | Ausgabe 4/2020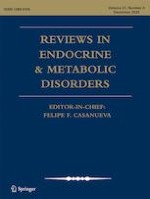 Melatonin, an ubiquitous metabolic regulator: functions, mechanisms and effects on circadian disruption and degenerative diseases
Zeitschrift:
Autoren:

Andreea Iulia Socaciu, Răzvan Ionuţ, Mihai Adrian Socaciu, Andreea Petra Ungur, Maria Bârsan, Angelica Chiorean, Carmen Socaciu, Armand Gabriel Râjnoveanu
Wichtige Hinweise
Andreea Iulia Socaciu, Răzvan Ionuţ, and Mihai Adrian Socaciu contributed equally to this work.
Publisher's note
Springer Nature remains neutral with regard to jurisdictional claims in published maps and institutional affiliations.
Abstract
The last four decades, we assist to an increasing scientific interest on melatonin, a circadian hormone, a metabolic regulator which influences not only plants' metabolism and their defense against pathogens but mostly the animals and humans' metabolic pathways, their response to circadian disruption, stress and burnout syndrome. In humans, as a hormonal regulator, produced in the pineal grand as well in mitochondria, melatonin is involved in different, complex intracellular signaling pathways, with antioxidant and immune stimulating effects, proving to act as a circadian synchronizer, as a preventive and therapeutic agent in many degenerative diseases, and especially in hormone-dependent cancers. Preclinical or clinical studies showed recently the mechanisms involved in regulating the cellular activity, its role in aging and circadian disturbances and impact on degenerative diseases. Melatonin proved to have an anti-inflammatory, antiapoptotic and powerful antioxidant effect by subtle mechanisms in mitochondrial metabolic pathways. This overview includes recent and relevant literature data related to the impact of endogenous and exogeneous melatonin on the prevention of cancer progression and treatment of various degenerative diseases. Metabolomics, an emerging new omics' technology, based on high performance liquid chromatography coupled with mass spectrometry is presented as an encouraging technique to fingerprint and realize a precise evaluation and monitoring of the turnover of melatonin and its metabolites in different pathological circumstances.