01.12.2014 | Research | Ausgabe 1/2014 Open Access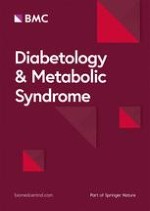 Melatonin supplementation to treat the metabolic syndrome: a randomized controlled trial
Zeitschrift:
Autoren:

Abhinav Goyal, Paul D Terry, Hillary M Superak, Christine L Nell-Dybdahl, Ritam Chowdhury, Lawrence S Phillips, Michael H Kutner
Wichtige Hinweise
Electronic supplementary material
The online version of this article (doi:
10.​1186/​1758-5996-6-124
) contains supplementary material, which is available to authorized users.
Competing interests
The authors declare that they have no competing interests.
Authors' contributions
AG, PDT, HMS, CLN, RC, LSP, and MHK participated in the conduct of the trial. CLN and LSP identified most of the study participants. AG drafted the manuscript. AG, PDT, HMS, CLN, RC, LSP, and MHK interpreted the data and reviewed and edited the manuscript. HMS and MHK performed statistical analyses. PDT obtained study funding. RC researched data. All authors read and approved the final manuscript. AG and MHK are the guarantors of this work, and, as such, had full access to the data in the study and takes responsibility for the integrity of the data and the accuracy of the data analysis. The funding agency (NCCAM) had no role in the data analyses, drafting of the manuscript, or decision to publish the findings.
Abstract
Background
Supplemental melatonin may ameliorate metabolic syndrome (MetS) components, but data from placebo-controlled trials are lacking.
Methods
We conducted a double-blind, placebo-controlled, crossover, Phase II randomized pilot clinical trial to estimate the effects of melatonin supplementation on MetS components and the overall prevalence of MetS. We randomized 39 subjects with MetS to receive 8.0 mg oral melatonin or matching placebo nightly for 10 weeks. After a 6-week washout, subjects received the other treatment for 10 more weeks. We measured waist circumference, triglycerides, HDL cholesterol, fasting glucose, and blood pressure (BP) in each subject at the beginning and end of both 10-week treatment periods. The primary outcome was the mean 10-week change in each MetS component, and a secondary outcome was the proportion of subjects free from MetS, after melatonin versus placebo.
Results
The mean 10-week change for most MetS components favored melatonin over placebo (except fasting glucose): waist circumference -0.9 vs. +1.0 cm (p = 0.15); triglycerides -66.3 vs. -4.2 mg/dL (p = 0.17); HDL cholesterol -0.2 vs. -1.1 mg/dL (p = 0.59); fasting glucose +0.3 vs. -3.1 mg/dL (p = 0.29); systolic BP -2.7 vs. +4.7 mmHg (p = 0.013); and diastolic BP -1.1 vs. +1.1 mmHg (p = 0.24). Freedom from MetS tended to be more common following melatonin versus placebo treatment (after the first 10 weeks, 35.3% vs. 15.0%, p = 0.25; after the second 10 weeks, 45.0% vs. 23.5%, p = 0.30). Melatonin was well-tolerated.
Conclusions
Melatonin supplementation modestly improved most individual MetS components compared with placebo, and tended to increase the proportion of subjects free from MetS after treatment.