01.12.2014 | Case report | Ausgabe 1/2014 Open Access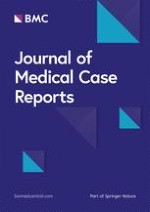 Meniscal tear as potential steering factor for inflammation may aggravate arthritis: two case reports
Zeitschrift:
Autoren:

Priya Kulkarni, Soumya Koppikar, Shantanu Deshpande, Narendrakumar Wagh, Abhay Harsulkar
Wichtige Hinweise
Competing interests
The authors declare that they have no competing interests.
Authors' contributions
PK and AH initiated the work and prepared the manuscript. SK was responsible for the analysis. SD and NW are orthopedic surgeons who diagnosed the patients, and they collected the samples and contributed to the clinical care of the patients. PK was responsible for the logistics and collection of clinical data. All the authors read and approved the final draft of the manuscript for publication.
Abstract
Introduction
Meniscal tear is thought to play a crucial role in onset as well as progression of arthritis. However, role of cytokine response to meniscal injury and resulting inflammation is not clearly understood. Because synovial fluid is juxtaposed to cartilage and serves as a biological connection between chondrocytes and synoviocytes, we chose synovial fluid analysis to ascertain biochemical response associated with a meniscal tear.
Case presentation
We report the cases of two patients with clinically different inflammatory arthritis, both of whom are Indian men. Patient 1 was 30 years of age, and patient 2 was 50 years of age. They both had a history of meniscal tear, which we confirmed by magnetic resonance imaging scans. Synovial fluid samples obtained from these two patients were analyzed for proinflammatory markers, such as interleukin 1β (IL-1β) and nitric oxide, and also for glycosaminoglycan as a cartilage degradation indicator. Relatively high levels of IL-1β (2000.0±15.7pg/ml) and nitric oxide (4.73±0.05μM/ml) and relatively low glycosaminoglycan (93.75±6.3μg/ml) were observed in patient 1, corroborating the diagnosis of traumatic meniscal tear. Compared to patient 1, Patient 2 had relatively low levels of IL-1β (54.55±14.5pg/ml) and nitric oxide (20.00±0.6μM/ml) and remarkably high glycosaminoglycan levels (553.33±1.7μg/ml), coupled with significant osteophytes and profound cartilage loss, which indicated severe arthritis and a diagnosis of degenerative meniscal tear.
Conclusion
The elevated levels of inflammatory IL-1β aggravated the severity of arthritis attributable to meniscal tear in both patients, as found in follow-up visits. This was quite evident in patient 2, whereas patient 1, being younger, had less serious symptoms. Meniscal tear has emerged as a potential confounding factor in arthritis with different clinical backgrounds, which leads to increased levels of inflammation and results in accelerated disease progression.