14.10.2020 | Case Based Review | Ausgabe 1/2021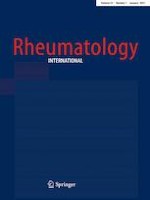 Menorrhagia due to uterine amyloidosis in familial Mediterranean fever: case-based review
Zeitschrift:
Autoren:

Döndü Üsküdar Cansu, Hava Üsküdar Teke, Deniz Arik, Cengiz Korkmaz
Wichtige Hinweise
Publisher's Note
Springer Nature remains neutral with regard to jurisdictional claims in published maps and institutional affiliations.
Abstract
Amyloidosis is described by the deposition of misfolded proteins in the tissues. Amyloidoses are classified into two as systemic and localized. Out of the systemic forms, AL (light chain) amyloidosis is the most prevalent type; however, amyloid A (AA) amyloidosis is more frequently encountered in the rheumatology practice. AA amyloidosis stands out as a major complication of familial Mediterranean fever (FMF). Splenic and renal involvement is more likely in FMF-associated systemic amyloidosis. The involvement of thyroid and adrenal glands has also been described, although infrequently. Amyloidoses have a heterogeneous plethora of clinical manifestations, with certain phenotypes associated with specific amyloid forms. Gynecological amyloidosis is a rare condition. Uterine involvement may occur in a localized fashion or may also arise as a part of systemic involvement, albeit at a lesser ratio. Several cases of uterine AL amyloidosis have been documented so far as an organ involvement in systemic AL amyloidosis. On the other hand, uterine amyloidosis associated with AA amyloidosis has been described merely in one case with rheumatoid arthritis (RA). Here, we presented a 40-year-old female patient with FMF known for 38 years who underwent splenectomy and hysterectomy due to massive splenomegaly, deep anemia, and persistent menometrorrhagia. Histological examinations of materials revealed uterine and splenic AA amyloidosis. This case report is first-of-its-kind to describe FMF-associated uterine AA amyloidosis and also provides a discussion of possible mechanisms of amyloidosis-induced uterine bleeding.