01.12.2017 | Research article | Ausgabe 1/2017 Open Access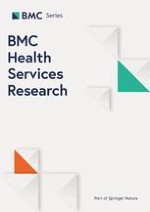 Mental distress following inpatient substance use treatment, modified by substance use; comparing voluntary and compulsory admissions
Zeitschrift:
Autoren:

Adrian R. Pasareanu, John-Kåre Vederhus, Anne Opsal, Øistein Kristensen, Thomas Clausen
Abstract
Background
Treatment services to patients with substance use disorders (SUDs), including those mandated to treatment, needs to be evaluated and evidence based. The Norwegian Municipal Health Care Act (NMHCA) calls for compulsory treatment for persons with "severe and life-threatening substance use disorder" if these individuals are not otherwise willing to be voluntarily treated and consequently risk their lives over drug use. Mental distress is known to be high among SUD patients admitted to inpatient treatment. The purpose of this study is to describe changes in mental distress from admission to a 6-month follow-up in patients with SUDs, which underwent either voluntary or compulsory treatment.
Method
This prospective study followed 202 hospitalized patients with SUDs who were admitted voluntarily (VA;
n
 = 137) or compulsorily (CA;
n
 = 65). Levels of mental distress were assessed with SCL-90-R. Of 123 patients followed-up at 6 months, 97 (62 VA and 35 CA) had rated their mental distress at admission, discharge and follow-up. Sociodemographics and substance use severity were recorded with the use of The European Addiction Severity Index (EuropASI). We performed a regression analysis to examine factors associated with changes in psychiatric distress at the 6-month follow-up.
Results
The VA group exhibited higher mental distress than the CA group at admission, but both groups improved significantly during treatment. At the 6-month follow-up, the VA group continued to show reduced distress, but the CA group showed increases in mental distress to the levels observed before treatment. The deterioration appeared to be associated with higher scores that reflected paranoid ideas, somatization, obsessive-compulsive symptoms, interpersonal sensitivity, and depression. Active substance use during follow-up was significantly associated with increased mental distress.
Conclusion
In-patient treatment reduces mental distress for both CA and VA patients. The time after discharge seems critical especially for CA patients regarding active substance use and severe mental distress. A greater focus on continuing care initiatives to assist the CA patients after discharge is needed to maintain the reduction in mental distress during treatment. Continuing-care initiatives after discharge should be intensified to assist patients in maintaining the reduced mental distress achieved with treatment.