01.07.2016 | Skin Cancer (BY Kwong, Section Editor) | Ausgabe 7/2016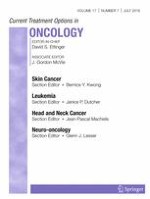 Merkel Cell Carcinoma Therapeutic Update
Zeitschrift:
Autoren:

MD Nicole M. Cassler, BA Dean Merrill, MD Christopher K. Bichakjian, MD, PhD Isaac Brownell
Wichtige Hinweise
This article is part of the Topical Collection on
Skin Cancer
Opinion statement
Merkel cell carcinoma (MCC) is a rare and aggressive neuroendocrine tumor of the skin. Early-stage disease can be cured with surgical resection and radiotherapy (RT). Sentinel lymph node biopsy (SLNB) is an important staging tool, as a microscopic MCC is frequently identified. Adjuvant RT to the primary excision site and regional lymph node bed may improve locoregional control. However, newer studies confirm that patients with biopsy-negative sentinel lymph nodes may not benefit from regional RT. Advanced MCC currently lacks a highly effective treatment as responses to chemotherapy are not durable. Recent work suggests that immunotherapy targeting the programmed cell death receptor 1/programmed cell death ligand 1 (PD-1/PD-L1) checkpoint holds great promise in treating advanced MCC and may provide durable responses in a portion of patients. At the same time, high-throughput sequencing studies have demonstrated significant differences in the mutational profiles of tumors with and without the Merkel cell polyomavirus (MCV). An important secondary endpoint in the ongoing immunotherapy trials for MCC will be determining if there is a response difference between the virus-positive MCC tumors that typically lack a large mutational burden and the virus-negative tumors that have a large number of somatic mutations and predicted tumor neoantigens. Interestingly, sequencing studies have failed to identify a highly recurrent activated driver pathway in the majority of MCC tumors. This may explain why targeted therapies can demonstrate exceptional responses in case reports but fail when treating all comers with MCC. Ultimately, a precision medicine approach may be more appropriate for treating MCC, where identified driver mutations are used to direct targeted therapies. At a minimum, stratifying patients in future clinical trials based on tumor viral status should be considered as virus-negative tumors are more likely to harbor activating driver mutations.