01.12.2015 | Research article | Ausgabe 1/2015 Open Access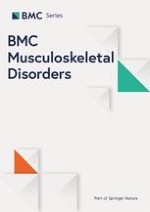 Mesenchymal stem cells in rabbit meniscus and bone marrow exhibit a similar feature but a heterogeneous multi-differentiation potential: superiority of meniscus as a cell source for meniscus repair
Zeitschrift:
Autoren:

Zhe Ding, He Huang
Wichtige Hinweise
Electronic supplementary material
The online version of this article (doi:
10.​1186/​s12891-015-0511-8
) contains supplementary material, which is available to authorized users.
Zhe Ding and He Huang contributed equally to this work.
Competing interests
We all authors were fully involved in this study. Each author certifies that he or she has no commercial associations (eg, consultancies, stock ownership, equity interest, patient/licensing arrangements, etc.) that might pose a conflict of interest in connection with this article. We authors vow and declare that no potential competing interest exist among us.
Authors' contributions
H H: (corresponding author) conceived of the study, and participated in its design and coordination and helped to draft the manuscript. Z D: (first author) carried out all fields of the experiment, participated in the design of the study and drafted the manuscript. Both authors read and approved the final manuscript.
Abstract
Background
The restoration of damaged meniscus has always been a challenge due to its limited healing capacity. Recently, bone marrow-derived mesenchymal stem cells (BMSCs) provide a promising alternative to repair meniscal defects. However, BMSCs are not ideal chondroprogenitor cells for meniscus repair because they have a high propensity for cartilage hypertrophy and bone formation. Our hypothesis is that mesenchymal stem cells (MSCs) reside in meniscus maintain specific traits distinct from others which may be more conducive to meniscus regeneration.
Methods
MSCs were isolated from bone marrow and menisci of the rabbits. The similarities and differences between BMSCs and MMSCs were investigated
in vitro
by a cell culture model,
ex vivo
by a rabbit meniscus defect model and
in vivo
by a nude rat implantation model using histochemistry, immunocytochemistry, qRT-PCR and western blotting.
Results
Our data showed that two types of MSCs have universal stem cell characteristics including clonogenicity, multi-potency and self-renewal capacity. They both express stem cell markers including SSEA-4, Nanog, nucleostemin, strol-1, CD44 and CD90.
However, MMSCs differed from BMSCs. MMSC colonies were much smaller and grew more slowly than BMSC colonies. Moreover, fewer MMSCs expressed CD34 than BMSCs. Finally, MMSCs always appeared a pronounced tendency to chondrogenic differentiation while BMSCs exhibited significantly greater osteogenic potential, whatever
in vitro
and
in vivo
.
Conclusions
This study shows the similarities and differences between MMSCs and BMSCs for the first time. MMSCs are a promising source of mesenchymal stem cells in repairing meniscus defect.