01.12.2017 | Review | Ausgabe 1/2017 Open Access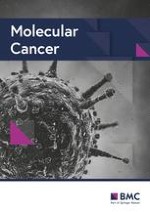 Mesenchymal stem cells: key players in cancer progression
Zeitschrift:
Autoren:

Sarah M. Ridge, Francis J. Sullivan, Sharon A. Glynn
Abbreviations
BMP-4
Bone morphogenic protein-4
CAF
Cancer associated fibroblast
CCL5
Chemokine (C-C motif) ligand 5
CCR5
C-C chemokine receptor type 5
EMT
Epithelial-to-mesenchymal transition
FSP1
Fibroblast specific protein 1
SDF-1α
Stromal cell-derived factor 1
STAT3
Signal transducer and activator of transcription 3
TAM
Tumour associated macrophage
TGFβ
Transforming growth factor β
VEGF
Vascular endothelial growth factor
Background
The tumour stroma varies between each cancer type and the heterogeneous nature of the tumour makes it complicated to study. It is important to develop an understanding of what drives non-cancerous cells toward an activated state, what that activated state is and what it subsequently means for tumour cell progression.
Main text
Conclusions
It is now understood that MSCs interact with and influence tumour cells at various stages of progression. It is not clear however, whether the effect is predominantly tumour promoting or suppressive. Explanations that could account for the conflicting results include differences in experimental design, the heterogeneity within the MSC population or varying responses dependent on the stimuli (explored more extensively in a review by Klopp et al. [
114
]). Nonetheless, there is extensive evidence to suggest that MSCs can promote tumour growth and drive metastatic progression. Despite this, MSCs are increasingly being studied for their potential in a range of different clinical therapies. It is therefore imperative to understand how they communicate with tumour cells and within the tumour stroma. Given the plasticity of MSCs, future research should consider whether they are reprogrammed at the site of the tumour or if they exert their effects solely through paracrine signalling and direct cell-cell contact. It would also be interesting to ascertain whether there are phenotypic differences in MSCs that are isolated from different tumour types and whether the MSC responds to the tumour according to its stage of progression.
Cancer therapies classically target tumour cells yet, what remains is an activated stroma that provides an encouraging microenvironment for any surviving tumour cells. Evidence to support this comes from studies in breast cancer in which stromal-related gene expression or gene signatures was predictive of clinical outcome [
115
,
116
]. Moreover, pre-treatment of MSCs to concentrations of cisplatin which were toxic to breast cancer cells but not MSCs in vitro was found induce changes in kinase phosphorylation and increased cytokine production in the MSCs and co-culture with breast cancer cells lead to chemoresistance in the tumour cells [
117
]. It would therefore be of therapeutic interest to investigate the contribution of tumour stromal cells to cancer progression and their activity following cytotoxic treatment.
Acknowledgements
Not applicable.
Funding
Sarah Ridge was funded by a NUI Galway PhD Scholarship. Sharon Glynn was funded by the Irish Cancer Society (PCT13MCD). Francis Sullivan was funded by the Galway University Foundation.
Availability of data and materials
Not applicable.
Authors' contributions
The initial draft of the paper was written by SMR. SAG revised and expanded the manuscript. SMR created the figure and designed the outline of the article. FJS proofread the manuscript. Each author has read and approved the final version of the manuscript.
Competing interests
The authors declare that they have no competing interests.
Consent for publication
Not applicable.
Ethics approval and consent to participate
Not applicable – review article.
Open Access
This article is distributed under the terms of the Creative Commons Attribution 4.0 International License (
http://​creativecommons.​org/​licenses/​by/​4.​0/​
), which permits unrestricted use, distribution, and reproduction in any medium, provided you give appropriate credit to the original author(s) and the source, provide a link to the Creative Commons license, and indicate if changes were made. The Creative Commons Public Domain Dedication waiver (
http://​creativecommons.​org/​publicdomain/​zero/​1.​0/​
) applies to the data made available in this article, unless otherwise stated.