01.12.2012 | Research article | Ausgabe 1/2012 Open Access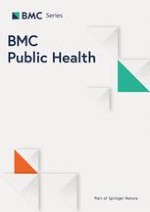 Mesothelioma incidence surveillance systems and claims for workers' compensation. Epidemiological evidence and prospects for an integrated framework
Zeitschrift:
Autoren:

Alessandro Marinaccio, Alberto Scarselli, Enzo Merler, Sergio Iavicoli
Wichtige Hinweise
Electronic supplementary material
The online version of this article (doi:
10.​1186/​1471-2458-12-314
) contains supplementary material, which is available to authorized users.
Competing interests
The authors declare that they have no competing interests.
Authors' contributions
AM conceived the study and defined its design, participated in the statistical analysis and drafted the manuscript. AS participated in the design of the study, performed the statistical analysis and helped to draft the manuscript. EM participated to conceive the study and its design and helped to draft the manuscript. SI participated to conceive the study and its design and helped to draft the manuscript. All authors read and approved the final manuscript.
Background
Malignant mesothelioma (MM) is a rare and rapidly fatal tumour closely related to inhalation of asbestos fibres. It arises from the serous membranes of the pleura and, less frequently, from the peritoneal and pericardial cavities and the tunica vaginalis testis. Many western countries are currently suffering an MM epidemic, reflecting the widespread use of asbestos between the 1950's and 80's in many industrial applications.
The aim of this study was to examine the rates of claims filed and compensations awarded, and the demographic, social, geographic, diagnostic, etiologic and professional factors associated with the probability of seeking and receiving compensation. Identification of such factors may inform policies around communication to workers and clinicians regarding MM, and lead to improved efficiencies in the public insurance system.
Methods
To estimate the MM incident cases seeking or not seeking and receiving or not receiving compensation, we implemented an individual linkage between the ReNaM and INAIL archives. ReNaM is an epidemiological surveillance and research system with a regional structure: operating centres (COR) have gradually been set up in 18 of the 20 Italian regions, covering almost the whole country (98.5% of the Italian population). CORs actively search for incident cases and investigate occupational and residential history, and lifestyle habits using a standardized questionnaire administered by a trained interviewer to subjects or next of kin. Occupational exposure is classified qualitatively, on the basis of questionnaire, as definite, probable or possible considering the probability, intensity and duration of exposure. More details are available in the national guidelines regarding diagnostic and anamnesis classification criteria [
14
]. Cases are assigned to specific economic sectors (38 categories) considering the whole occupational history. We further classified them into four macro-groups, according to the modalities of asbestos use:
direct use
including activities with use of asbestos as "material" (shipbuilding and repair, asbestos-cement industry, railway rolling stock construction and maintenance, asbestos mining, port handling, asbestos textile industry, friction materials production, production of gaskets and packaging);
indirect use for insulation and auxiliary tools
(metal and engineering, metallurgic, oil refineries, metal, food and drink industries, sugar refineries, organic and inorganic chemical plants, wood processing, tobacco, leather tanning, non-asbestos textile finishing, glass and ceramic, paper, jewellery, gas production, navy and military defense, power plants, heat and steam generators);
construction sector
(the whole building industry);
atypical exposures
including workers for which there is a lack of information about asbestos exposure that results frequently unexpected (car mechanics, jute sack recycling, agriculture, fishery, bars and restaurants, public administration, education, banks, post offices, health and social services).
From the ReNaM archives we selected MM cases diagnosed in the period 2000–2004. The regions of Valle d'Aosta, Piedmont, Veneto, Lombardy, Friuli-Venezia Giulia, Tuscany, Liguria, Emilia-Romagna, Marche, Apulia, Basilicata, Campania, and Sicily (77.7% of the whole Italian population) provided incidence data; caselists from Lazio, Abruzzo, Calabria and Sardinia (17.5%) were not considered complete and Trentino Alto Adige, Umbria and Molise (4.8%) did not transmit data for the selected period. Only cases with pleural, peritoneal, or pericardial forms and with occupational exposure (definite, probable or possible) were considered.
INAIL receives a worker's compensation claim for mesothelioma and verifies the diagnosis. The claim can be rejected if there was no occupational exposure to asbestos, or the worker was not insured by INAIL, or for inadequate documentation. We selected all mesothelioma claims from the national workers' compensation authority (INAIL) registered in the period 2000‐2007 (to include dossiers with delayed definition) from the whole country (to include people with residence and workplace in different regions). The linkage was conducted using personal identification numbers (tax numbers) or a combination of full name, sex, date and place of birth.
Logistic regression models were used to determine the relative risk of not making a claim for the mesothelioma incident cases eligible for compensation, and their demographic, geographic and occupational variables. We calculated the level of significance and its 95% confidence limits. Reference categories in the logistic model were chosen with respect to the exposure modalities with the highest percentage of claims for each variable (sex, age at diagnosis, year and certainty of diagnosis, region of residence/work, level of exposure and occupational category).
Individual data have been made available for research studies by ReNaM and by INAIL and have been used strictly only to perform linkage procedures. The data were analyzed with SAS statistical software (LOGISTIC procedure, SAS version 9.1; SAS Institute Inc., North Carolina), using the backward selection method in order to obtain the best-fitting model.
Results
Analyses by economic sector of exposure showed wide variability in the proportions of cases who filed for compensation. The highest rate was for railway workers involved in maintenance and repair or removing the asbestos insulation from rolling stock (73% of those seeking compensation). The proportion was 70.2% for port handling workers, 62.6% for shipbuilding and repair, 61.9% in the asbestos-cement industry, 62.7% in gas production and 61.1% in oil refineries. The construction sector had 44.4% of MM claims. After adjustment in the logistic model, the relative risk of not seeking compensation for construction workers reached 1.9 (95% CI 1.4-2.4), significantly higher than the reference category (people who used asbestos directly in the workplace). The lowest rates were for health and social services (32.3%), education (26.7%) and agriculture (8.6%).
Discussion
In Italy the ReNaM has been active since 1993 (compulsory since 2002) with the aims of defining the incidence rates and investigating each subject's individual occupational, residential and environmental history using a structured questionnaire. Some important limitations regarding the ReNaM dataset bear discussion. The Register has not been developed uniformly throughout the country. This is why the selected period for analysis was 2000‐2004, guaranteeing a large enough sample and adequate territorial incidence coverage. Regions differ in their assessments of asbestos exposure with respect to incident cases, depending on the resources available. While the national guidelines for the standardization of MM cases collected aim to correct this imbalance, there are still large gaps among the different regions. Furthermore this study looked only at incident cases, not incidence rates and the reference populations of ReNaM and of the insurance system are not the same.
The overall rate of compensation for mesothelioma claims in Italy due to occupational exposure to asbestos is 49.7%, and more than 90% of these are granted by the workers' compensation authority. A substantial number of people who deserve compensation for MM do not seek it. The percentage (50.3%) is higher than in the Canadian survey but no real comparison can be made because that registry does not specify industry sectors and occupational categories.
In Italy owners are obliged to insure their workers for injuries and occupational diseases. However, the self-employed have no such obligation. INAIL is the institute with the main role, but some categories such as the military and firemen (jobs involving asbestos exposure) come under other specific insurance systems. Eligibility criteria for compensation include diagnostic certainty and an asbestos exposure suffered in the work place.
In the multivariate model, after adjustment for all variables, the region of residence at diagnosis remained a significant source of variation in the probability of not seeking compensation for occupationally exposed patients. This is worth stressing as an opportunity to define policies to reduce this source of inequality. The sensitivity and awareness of health care system operators (clinicians particularly) was far from uniform over the whole country, and the level was particularly low in the south of Italy. There is therefore a pressing need to systematically spread information about the causes of MM and patients' rights, also using the ReNaM network.
Our data highlight the importance of the documentation and dissemination of all asbestos exposure modalities since many - considering the large-scale use of asbestos and the absence of a threshold for the dose–response curve - are frequently not expected. Regulatory and public health agencies need effective notification systems to ensure that all individuals newly diagnosed with MM seek compensation benefits.
Conclusions
The substantial proportion of workers with tumours of occupational origin who do not seek compensation and the consequent underestimation of the occupational cancer burden in insurance statistics is a public health topic [
37
]. Individually, many patients do not collect the compensation to which they are entitled, largely due to lack of information. Collectively, correct evaluation of the distribution of risk is fundamental for establishing insurance premiums, and correct premiums are fundamental to induce preventive measures for risk reduction. Furthermore, the health care costs of occupational tumours not known to the insurance system are shifted onto general public finance through the national health service, distorting its economics.
Asbestos exposure is a legacy of the past, but current exposure to carcinogens in the workplace is still an open issue. For MM, epidemiological analysis of the gap between compensation data and surveillance system findings is now possible in Italy and in other countries that have both these data sources [
38
]. For other tumour sites it is still hard to do this with what national data there are. The development of a complete occupational cancer surveillance system is a challenge for the near future, to improve epidemiological knowledge and the efficiency of the health care and insurance systems.
Acknowledgments
Authors thank personnel of the Italian regional operative centers (COR) for their daily work concerning malignant mesothelioma and asbestos exposure surveillance. Thanks to Judith Baggott (Mario Negri Institute, Milan, Italy) for linguistic revision of the text.
This article is published under license to BioMed Central Ltd. This is an Open Access article distributed under the terms of the Creative Commons Attribution License (
http://​creativecommons.​org/​licenses/​by/​2.​0
), which permits unrestricted use, distribution, and reproduction in any medium, provided the original work is properly cited.
Competing interests
The authors declare that they have no competing interests.
Authors' contributions
AM conceived the study and defined its design, participated in the statistical analysis and drafted the manuscript. AS participated in the design of the study, performed the statistical analysis and helped to draft the manuscript. EM participated to conceive the study and its design and helped to draft the manuscript. SI participated to conceive the study and its design and helped to draft the manuscript. All authors read and approved the final manuscript.